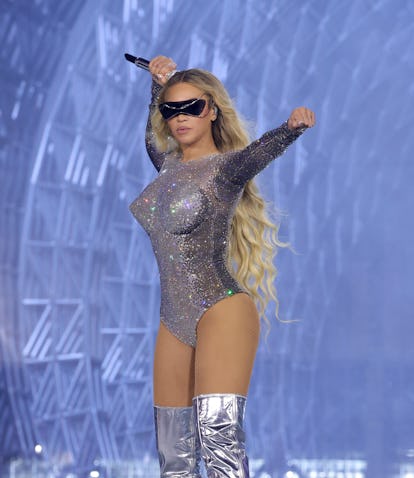 Beyoncé & Megan Finally Performed "Savage" Together Live
Of course, the Houston Renaissance Tour show won.
Kevin Mazur/WireImage/Getty Images
Beyoncé made sure to give her hometown an extra-special surprise when she brought her Renaissance World Tour to Houston, bringing her fellow H-Town hottie on stage with her. During her Sept. 23 concert, Bey linked up with Megan Thee Stallion, giving a performance that instantly became iconic among the Beyhive and the Hotties alike. The two superstars had never performed their 2020 collab "Savage (Remix)" live together in the three years since its release... but they finally changed that on the Renaissance Tour stage.
In the middle of her first Houston show on the Renaissance Tour, Beyoncé surprised her hometown crowd by announcing a very special guest. "Please give it up for Houston's own, Megan Thee Stallion," Beyoncé announced as "Savage" started to play. After Megan rapped her verse on the remix, which you can watch in videos posted to social media, Bey shared her love for her Houston sister. "I love you, queen," Bey shouted. "I love you, Beyoncé," Megan responded before dancing off the stage.
The surprise set marked the first time Beyoncé and Megan had ever performed their collaboration live together. The duo dropped "Savage (Remix)" back in the spring of 2020, so this performance has been three and a half years in the making for fans.
And Megan completely understood the importance of this performance. The rap superstar was originally scheduled to headline the Global Citizen Festival this same weekend, but suddenly pulled out of the event less than two weeks before it began. Page Six reported that the cancellation was due to a surprise appearance at the Houston Renaissance Tour show, which we now know was indeed the case.
Though this was Megan's first "Savage" performance with Beyoncé, it's not the first time they've shared a stage. At the 2021 Grammys, Bey presented Megan with the Best Rap Song prize for "Savage," and Megan took the moment to gush about her musical icon. "I definitely want to say thank you to Beyoncé," she said. "If you know me, you have to know ever since I was little, you know that when I grow up I'm going to be like the rap-Beyoncé. That was my goal. I love her work ethic, I love how she is, I love the way she carried herself."