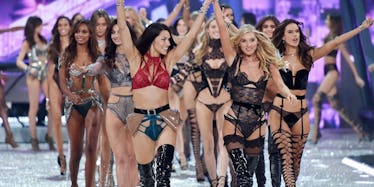 All The Looks From The Victoria's Secret Fashion Show You Could Casually Wear IRL
REX/Shutterstock
If there's one thing we can all agree on, it's that deep down, we're all Victoria's Secret Angels at heart.
I don't know about you, but I watched last night's show as if I were watching my own sisters. I mean, we look so much alike we could practically be family.
Last night's show covered everything you need for your 2017 wardrobe — feathers, latex, lace, beanies. If you want it, Victoria's Secret has got it.
Here are all the places you could wear the VSFS looks IRL.
Gigi Hadid's Bohemian Bangles
Where to wear it: A music festival. Pair it with: Sunscreen and weed.
In actual all seriousness, this outfit was truly designed for Coachella. Everyone from Gigi Hadid herself to Willow Smith is going to rock this when festival season comes back around.
Jourdana Phillips' Practical Blue Blazer
Where to wear it: Work, or a business meeting at a coffee shop. Pair it with: A sensible cross bag and your updated resume.
This look says you take yourself seriously, and no funny business.
Where it when you need to be pulled together, but comfortable. The belt emphasizes your natural waist and will give you a great figure without too much effort.
Brooke Perry's Pink Bow Wow Number
Where to wear it: Your own birthday party! Pair it with: Birthday cake and kissing boys!
Be your own present this year! This look is a great way to up the stakes on your big day, and ensure YOU'RE the center of attention.
Kendall Jenner's Buttoned-Up Classic
Where to wear it: The local library or museum. Pair it with: Red bull and thick rimmed glasses.
This is a great, no fuss look for a leisurely day of reading or writing. The sleeves keep you sophisticated while the lace keeps you flirty.
Cindy Bruna's Fabulous Colors
Where to wear it: Your next vacation with your besties. Pair it with: Dancing lessons, and dinners where the main course is predominately red meat.
This feisty look exudes energy and adventure, making it perfect for a cruise around Greece or a night salsa dancing in Spain. Wear it at night or during the day, just dress it up or down with sandals or heels.
Stella Maxwell's German (???) Inspired Shorts
Where to wear it: The biergarten. Pair it with: A strong IPA and a pretzel with cheese.
This has football Sunday written all over it. Throw it on for the game -- next round of Buds are on you!
Bella Hadid's Silver Sizzle
Where to wear it: Date night (if it's cold outside... because of the cape...). Pair it with: Lots of eyeliner and perfume.
Make sure you sparkle on your next date night! This look shows just enough glam without being presumptuous. Bonus if you run into your ex.
Luma Grothe's Cozy Hat Ensemble
Where to wear it: SLEEP, or in a snowball fight. Pair it with: Hot chocolate and a cozy fireplace.
What a great way to stay cute AND be comfortable.
The hat is great for transitioning into the winter months, and the sweatshirt is a perfect accessory for lounging at home by yourself or with your sweetie.
Grace Elizabeth's Ribbon Extravaganza
Where to wear it: Your next big fight or talk with bae to gain confidence and establish dominance. Pair it with: Mouth wash and heavy deodorant.
When you need a boost of confidence and strength, go to your closet and pull this sucker out. No one will mess with you if you bring this look and attitude.
Irina Shayk's Glittery Fringe
Where to wear it: Karaoke. Pair it with: Gloria Estefan throwbacks.
We LOVE a little shimmer, and we love karaoke bars even more.
This is the ideal outfit for a night out singing and laughing with the girls, or making eyes at the local bartender while belting out "You're Gonna Love Me" from the Dreamgirls soundtrack. Either way, you're a show stopper.
Sanne Vloet Parka
Don't make us say it...
RAIN. OBVIOUSLY, READER.
Sisters, you're rock stars. Angels from heaven and on earth.
Enjoy this year's amazing looks while you can, and we'll see you back here next year for hopefully even more wonderful, practical and accessible looks.
KISSES!