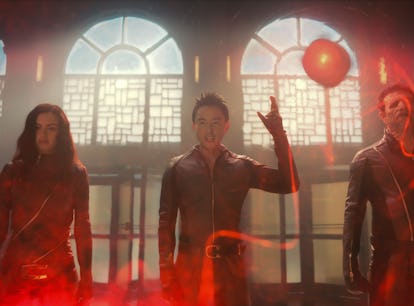 The Umbrella Academy's Season 3 Trailer Answers Big Questions — And Raises New Ones
Netflix
The Umbrella Academy is Netflix's oddest take on the superhero genre to date. Based on the Dark Horse graphic novels written by Gerard Way and illustrated by Gabriel Bá, it considers a question rarely asked by comic book series about those who grow up with superpowers. Namely, how screwed up are these kids once they hit adulthood? The answer is very, according to The Umbrella Academy. The show features a set of superpowered people who have super emotional issues. But after two seasons, the Hargreeves siblings seem to have gotten their heads on straight. So how will The Umbrella Academy Season 3 screw them up this time?
When The Umbrella Academy debuted in 2019, it was just after Netflix officially canceled the last of its collaboration with Marvel TV. The proximity of Marvel's demise with Netflix to the Dark Horse Comics show's premiere drew inevitable comparisons. But it also felt like Netflix had made a choice: Why traffic in standard, middle-of-the-road superheroes when you could go super off-the-wall instead?
The audience seemed to agree. In April 2019, Netflix announced The Umbrella Academy drew in 45 million viewers in its first month. Season 2 seems to have also been just as popular, with Variety reporting it as the most-streamed series in August 2020. Independent research group Nielsen confirmed the series was the streamer's biggest show in August by an order of magnitude.
With Season 3 almost upon us in 2022, here's what we know about it so far:
The Umbrella Academy Season 3 will arrive on Netflix will all episodes on Wednesday, June 22, 2022. Seasons 1 and 2 are streaming on Netflix.
This article was originally published on