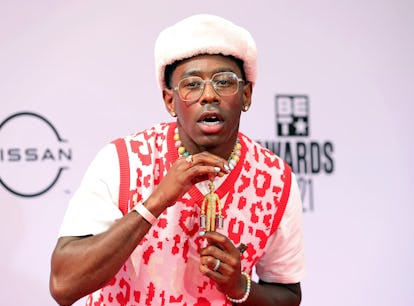 Fans Are Divided Over Tyler, The Creator's Camp Flog Gnaw Lineup
"This year might be boring as f*ck."
Rich Fury/Getty Images Entertainment/Getty Images
This year's festival season just became a little hotter. After a four-year hiatus, Camp Flog Gnaw Carnival is back. The wavy musical event, helmed by Tyler, The Creator, is returning to its permanent home in Los Angeles this fall. Fans are still in awe at the festival's sudden resurrection, as Camp Flog Gnaw hasn't been active since 2019. Now, nearly two months after its revival announcement, the Igor rapper announced the festival's lineup in the oddest (no pun intended) way possible: In a hours-long livestream.
On Aug. 18, Tyler revealed CFG's lineup through a two-hour painted mural. The mural, which was created on the side of his Golf store in Fairfax, has a similar aesthetic to the cover of his 2017 Flower Boy album. However, instead of cartoonishly large bees, fans were met with an interesting roster of performers such as Ice Spice, Dominic Fike, SZA, PinkPantheress and more.
While many fans on Twitter were excited to see new and returning faces on the lineup, some seemed to be underwhelmed. Latter users called the roster "mid," with many pointing their grievances at Tyler for including artists like Rex Orange County — who formerly had sexual assault allegations against him — on the list.
Tyler first teased the return of Camp Flog Gnaw on May 30. He made a surprise appearance in Baby Keem and Kendrick Lamar's (who are now headliners for the festival) music video for "The Hillbillies," which sees both emcees letting loose in a grainy, almost lo-fi filter. In the last minute of the video, Tyler joins the two rappers in front of Dodgers Stadium. There, he took off his coat and flaunted a "Camp Flog Gnaw Carnival 2023" pin, alluding the festival had something in the works.
The following day, Camp Flog Gnaw's official Instagram announced its return to Los Angeles' Dodger Stadium on Nov. 11 and Nov. 12, 2023.
Here are all the details to know about Camp Flog Gnaw 2023.
Who's Performing At Camp Flog Gnaw?
While a mix-reviewed roster, Camp Flog Gnaw's lineup is still quite impressive. The list of performers include newbies like Ice Spice and PinkPantheress, underrated acts such as Ravyn Lenae, and nods to the iconic Odd Future.
What's Camp Flog Gnaw's Backstory?
The festival's beginnings came in 2012. At the time, Tyler — who was in the early throes of his career — was the de-facto leader of Odd Future, a raucous music group that ultimately became a cultural mainstay in the music scene. The collective, who are also the deliciously chaotic minds behind Adult Swim's Loiter Squad, had 15 members that mostly rotated between rappers, producers, and singers. Those aforementioned talents would eventually create their own name outside of the group, including Frank Ocean, The Internet (which features the buzzy Steve Lacy), Earl Sweatshirt, Domo Genesis, Mike G, and now disbanded Mellowhype.
That year, Tyler held the first Camp Flog Gnaw Carnival at Club Nokia, an intimate venue space in Los Angeles. Odd Future's riveting influence eventually broke through the music sphere, and the rapper recognized he could no longer hold the festival in such a limited, indoor space. CFG expanded into a spacious outdoor spectacle, where newcomers and legends (Drake and Pharrell) appeared over the years to perform their slickest hits.
Odd Future unofficially parted ways in 2015; however, there's no denying their sonic prowess helped create a legendary music festival. And as seen in this year's lineup, former group members still return to CFG's grounds to show their talent.
Camp Flog Gnaw Tickets Were Certainly In-Demand
Those who haven't purchased tickets to the festival might have to rely on fan videos from the event. As of now, tickets (including General Admission and numerous VIP Passes) are sold out. However, there's a chance Tyler *might* add more tickets to the in-demand event, so keep an eye out on the festival's official website.
This article was originally published on