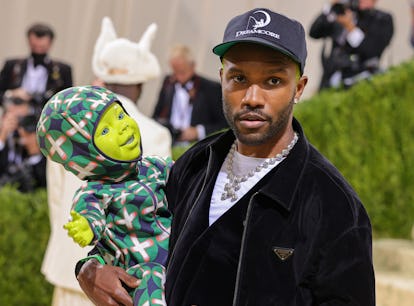 Fans Are Giving Frank Ocean's Coachella Performance The Side Eye
It was certainly a bizarre welcome back to the stage.
Theo Wargo/Getty Images Entertainment/Getty Images
Frank Ocean's star power has always gone hand in hand with his aura of mystery. The singer, who carried the 2012 era of Tumblr with his album Channel Orange, is known to drop timeless classics and quietly disappear from the spotlight as though he never emerged. This enigmatic approach has allowed him to go years without performing, so witnessing his talent live is a once-in-a-lifetime experience. After six years, Frank ended his live show drought by headlining Coachella on Apr. 16. While fans were excited to see him grace the stage, some attendees thought his set was a lackluster fever dream.
Frank's recent appearance at Coachella had been on the horizon for a while. According to Pitchfork, the Endless singer was scheduled as one of the headliners of the festival in 2020, but it was postponed due to the pandemic. When Frank's presence was confirmed for this year's spectacle, fans on Twitter had high expectations for his performance.
Perhaps they should've lowered their hopes a bit, because mayhem soon loomed around the corner. Hours before Frank's set, YouTube announced on Twitter that his show wouldn't be live streamed or uploaded to Coachella's official channel. It's still not clear why his performance was axed from the streaming list, as the music festival tends to stream all artists' shows. Fans weren't pleased with the news, and took to Instagram and TikTok in search of clips and live snippets from the concert.
That was just the beginning of the mess. On TikTok, those who physically attended the show noted that Frank's set started an hour after its original 10 p.m. PT time. According to user Marissa (@marstruck), some fans left the venue before he came onstage around 11 p.m.
Frank's peculiar stage design also perplexed some fans. His set was one massive screen lifted above the stage; however, he only performed in the small cut-out underneath that resembled a recording studio. Frank, who wore a black durag and a hoodie, rarely left the bubble of the actual stage, so attendees had to watch the flat screen in order to see him.
As seen in this video, Frank's set began with eight minutes of men clad in black masks and camouflage vests walking in a circle. The bit stretched longer than necessary, but Frank somewhat made up for it by performing a twist on one of his classics, "Novacane."
After playing a few seconds of the original track, Frank begins singing a reworked version of it, which swaps its stripped-down melodies for a more indie-rock touch. While this new cut sounds crisp, it definitely doesn't compare to the riveting textures on the original. He kept this method up for most of his performance, sprinkling in an acoustic version of "Pink + White" and a rave-inspired mix of "Chanel" by DJ Crystal Mess that had the festival's security guard in a twerking competition. Elsewhere, he stayed true to the original intrigue of Blonde tracks like "Godspeed," "Bad Religion," "Nikes," and "Nights."
At one point, Frank stopped the show to honor his younger brother Ryan Breaux, who died in 2020 from a car accident. "It's been so long, but I have missed you," Frank told the crowd, before nonchalantly revealing that he has a new album in the works. "You know, these last couple years, my life changed so much. My brother and I, we came to this festival a lot," he said, adding that he largely avoided coming to Coachella because the desert's dust constantly gave him a respiratory infection.
He then reflected on one of his favorite Coachella moments. "One of my fondest memories was watching Rae Sremmurd with my brother. And Travis [Bennett from Odd Future], I don't know if Travis/Taco is here, but we was just dancing in that tent to their music, and I know he would've been so excited to be here with all of us. I want to say thank you for the support and the ears and the love over all this time."
Shortly after, Frank abruptly stopped the show, saying: "Guys, I'm being told it's curfew so that's the end of the show. Thank you so much."
Though the singer's performance had its highs, his late attendance, odd setlist choices, and unexpected ending frustrated attendees and online watchers on Twitter.
Though DJ Crystal Mess' set was unexpected, at least fans received some entertainment.
Besides "Novacane," fans noticed Frank didn't perform any songs from his 2012 album, Channel Orange.