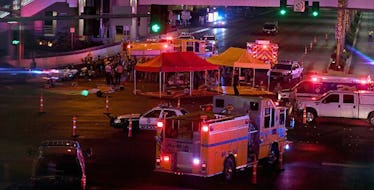 Twitter Is Sharing Fake Info On Las Vegas Shooting, So Be Careful What You Retweet
Ethan Miller / Staff
The world is waking up this morning to the horrible news that a gunman opened fire at a concert festival in Las Vegas on Sunday night, Oct 1. Now, people are sharing incorrect information and writing fake tweets about people missing in Las Vegas, so please be careful what you read and retweet. Below is what we do know, and a few fake accounts circulating so far.
Update: Las Vegas Police Department Sheriff Joe Lombardo has confirmed that at least 58 people were killed and over 515 were injured in the shooting. The shooter has also been confirmed dead and is not believed to have a connection to any terrorist group.
EARLIER: As of Monday morning, it has been confirmed that up to 50 people were killed in the shooting and more than 200 are injured. Authorities have confirmed they have "one suspect down" and are looking into a "female companion" to the shooter, though no other attackers were involved. Since the event, which occurred around 10 p.m. local time on Sunday night, false accounts with incorrect information have cropped up, distracting people from the real individuals who need help and have missing family and friends.
In sick, twisted behavior, people are patching together images of well-known athletes, comedians, or other public figures and saying they are their friends or family members, as pointed out by BuzzFeed. Some are sharing false stories as well.
It is worth doing a Google image search on the individuals you see on the tweets before sharing, just to be safe, and keep an eye out for these imposters below.
Many accounts are saying that comedian Sam Hyde is the shooter.
Sam is actually a performer and comedian who once had his own television show celebrating the alt-right on Adult Swim. He has been used as a meme and accused of further violent crimes by far-right trolls before.
Another account is claiming that his brother is missing. However, the image he tweeted is actually of a known suspect in a Mexican murder case.
The motive behind using this man's image is unknown and unclear.
More than one account is sharing a photo of viral porn star Johnny Sins.
Specifically in Sins' case, multiple people are saying that that he is their father, sharing this photo of Sin in a business suit and wearing a large gold watch.
This account is just sharing bold faced lies, posting fake images, information, and names like the tweet below.
After sharing false information, this account also tweeted the message, "If you're actually using twitter to search for your missing relative in a mass shooting it's safe to say they're dead."
This outrageous account created a false story about a missing teenage boy to gain Instagram followers.
After sharing a heartbreaking message about a missing son, the user capitalized on the traction and attention to their account and followed up their false missing person tweet with, "While y'all here follow me on Instagram!"
Wayne Root, a conservative media personality, began spreading incorrect and unverified information about the shooter to his followers.
He tried to pin the event on "Muslim terror," claiming that the shooter is also a Muslim. The police have since identified the shooter as a Nevada resident, and have said there is no evidence that he acted beyond his own accord.
Many more accounts are suggesting the shooter had a connection to both far-left or far-right organizations, spinning conspiracy theories linked back to President Donald Trump, with many more unfounded rumors and accusations with no real information or support to back them up.
According to CNN, this is the deadliest U.S. mass shooting in history, eclipsing the horrific June 2016 shooting at the Pulse Nightclub in Orlando, Florida, which claimed 49 innocent lives.
For now, it is encouraged that social media users refrain from posting or sharing without fact-checking all of their sources, as it is pivotal for families and authorities to have accurate information in their search for victims.