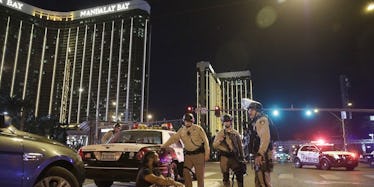 Was The Las Vegas Shooting An Act Of Terrorism? Here's What We Know So Far
AP/REX/Shutterstock
What is now being recognized as the deadliest mass shooting in U.S. history took place on Sunday, Oct. 1, during the Route 91 Harvest Festival at the Mandalay Bay Hotel and Casino in Las Vegas, Nevada. The shooter opened fire from the 32nd floor of the hotel around 10 p.m. local time during country singer Jason Aldean's set, killing 50 people in total and wounding approximately 400 more. Given the extent of the killings, and recent acts of terrorism in similar settings, we can't help wondering, was the Las Vegas shooting terrorism? According to police, there is no evidence to assume the shooter acted beyond their own accord.
Update: ISIS has claimed responsibility for the shooting, but according to Reuters, U.S. officials say there is no evidence of a connection between the terrorist group and the Las Vegas shooter.
A female "associate" of the shooter was identified and located by authorities, but police say they do not believe she was involved in the shooting.
Las Vegas Police Department Sheriff Joe Lombardo has confirmed that at least 58 people were killed and over 515 were injured in the shooting. The shooter has also been confirmed dead and is not believed to have a connection to any terrorist group.
Earlier: NBC reports that the shooter was found dead in his hotel room, but authorities have found a connection to the shooter and have brought that individual in for questioning. It is unclear at this time whether or not they will be tried as a direct accomplice.
In addition to the ammo used during the attack, the shooter is reported to have, apparently, come readily prepared with additional weapons. It is clear that the attack was well thought out, but the question is, to what extent, and was there an underlying motive?
The shooter took aim and fired over the crowd of roughly 30,000 people for a duration of 10 to 15 minutes, according to witnesses. Chaos spread like wildfire as people stumbled over one another to escape the scene.
According to the Washington Post, the shooter is believed to be what is considered a "lone wolf" attacker. This means that the individual acted out violently against their victims without assignment or some kind of structured command.
"We have no idea what his belief system was," Sheriff Joseph Lombardo stated during a news briefing. "Right now, we believe he was the sole aggressor and the scene is static."
However, this was not the first time the shooter had a run-in with the law — although the previous run-ins were minimal. According to the Las Vegas police force, the Nevada-native gunman had past run-ins with the law, including a citation several years prior to this attack that was considered a "matter of normal practice" in the court system.
So, was this an act of terrorism, or a violent, unpredictable outbreak carried out by the gunman on his own accord?
Whatever the cause, this is, without a doubt, a completely heartbreaking, unnerving incident, and our hearts mourn for the victims and the state of our country. However, it is still unclear whether or not the mass shooting was put into action by a political agenda. It is especially important that, during this time, we allow police to sort through the evidence to uncover the truth behind the attacks, rather than jump to our own conclusions, as we have no reason to believe the shooter carried out the attack as an act of terrorism.
As details are still being confirmed, all we can do while we wait for more information to be released from the authorities is send our deepest condolences and a lot of love to those affected by the attacks. They need it now more than ever. There are also more ways for you to more directly help.
As previously stated, this is now being recognized as the deadliest mass shooting in U.S. history, surpassing the tragic incident that had taken place at the Pulse nightclub in Orlando, Florida that left 49 people dead just last year.
At this time, we do not know if this attack was an act of terrorism, but what we do know is that our country has seen enough violence, and has lost too many innocent lives as a result. All we can do is spread love to the victims, their families, and to one another in hopes that we may see an end to these attacks.