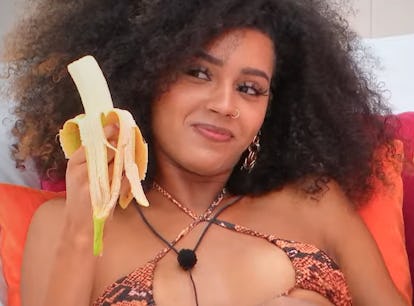 Christine On Too Hot To Handle Is The Queen Of Getting What She Wants
Netflix
You've got to be a good flirt to survive the Too Hot To Handle villa, and Christine Obanor may be the best the show has ever seen. The Houston bottle girl immediately set her sights on the man she was after, and wasted no time in seducing him... even if a few other girls tried to get in her way. If you found yourself inspired by Christine's unparalleled confidence, here's everything you need to know about the Too Hot To Handle Season 5 star.
Right when Christine laid eyes on Louis, it was on. She cut straight to the chase in their first conversion — when the footballer asked what her type was, she immediately responded, "you." Unfortunately for her, Louis was also a few of the other women's type as well. She sort of had to battle it out with Megan and Hannah to try to convince Louis to stay in her bed, and it didn't end up as she planned. Louis instead bunked up with Hannah, but that didn't deter Christine on bit. No matter how coupled-up Louis and Hannah seemed to be, Christine stepped her flirting game up to seduce Louis away from her.
Honestly, Christine's flirting skills seem like a superpower, and her life off the show is just as exciting as Lana's beachside resort.
Too Hot To Handle Season 5's Christine Obanor's Instagram
Christine's Instagram is all about her modeling and her love of fashion. She frequently posts photoshoots, as well as collabs with super-stylish brands. She also has a YouTube channel devoted to fashion trends and a TikTok where she tries some style hacks.
Too Hot To Handle Season 5's Christine Obanor's Job
When she entered Too Hot To Handle, Christine mentioned that she works as a bottle girl in Houston. Per her LinkedIn, she is also the owner of a nail company called Beautifaux Nails. And of course, as her Instagram shows, she also works as a model and influencer.
Too Hot To Handle Season 5's Christine Obanor's Age
Christine is 26, as she revealed in her birthday Instagram on April 20. That makes her a Taurus.