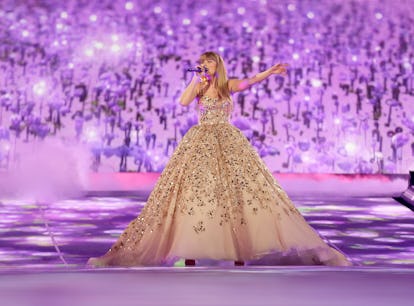 SwiftTok Thinks Taylor Might Drop Multiple Re-Recorded Albums At Once
The "Niceboy Ed" blue has Swifties in a chokehold.
Omar Vega/TAS23/Getty Images Entertainment/Getty Images
Swifties are modern-day versions of Sherlock Holmes. But instead of sporting Holmes' infamous deerstalker hat, they're sleuthing for Taylor Swift theories in their faded tour merch. Swift's fanbase are skilled investigators, largely due to the Midnights singer's penchant for hiding Easter eggs in both her music and social media posts. She's even sprinkled some hints in her current Eras Tour, which has stans crossing their fingers for a re-recorded version of Speak Now. Recently, Swift's management team stirred the conspiracy pot, and now Swifties believe she might drop several re-recordings at one time. Let's investigate.
This theory began with Taylor Nation and Niceboy Ed. For context, Ed is a low-profile artist who became popular in the Swiftiverse after Swift shared his music on her TikTok. Many fans believe Ed might secretly be her longtime collaborator Jack Antonoff; however, his actual identity is still a head-scratching mystery. On April 4, Taylor Nation posted a photo of Swift wearing her glittery Lovers era bodysuit with a cryptic message.
"shimmering beautiful. bejeweled. I like shiny things. she shines so bright. We couldn't choose just one so here's all four. Can we hear a little commotion for this #TSTheErasTour outfit?" they tweeted.
It appears these four descriptors were potential Twitter captions; however, fans saw something more. Shortly after Taylor Nation's post, Ed shared a photo of a blue box on Instagram and TikTok. These two posts are sudden, given that he hasn't been active on his social media accounts since October 2022. It wasn't long until Swifties looked into this, and TikToker Jessica (@jessicalynnslocum) posted a potential theory. In her video, she shared that when you mix the colors from four specific eras on Swift's Eras tour poster, it creates the same blue shade Ed posted.
"When you take her Eras poster [for] Reputation, Speak Now, her debut, and 1989 and put those colors together, you get the Niceboy Ed blue," Jessica said, adding this mix possibly means she'll drop a Taylor's version of each album all at once.
Another TikToker, Ginnie (@thethriftyswiftie) echoed a similar thought, but with a twist. She theorized that if Swift doesn't drop all four re-releases, that she might just release a new version of 1989. In her TikTok, Ginnie reveals that blue shade matches the hue in Swift's "This Love (Taylor's Version)" lyric video, a song that originally appeared on her 1989 album. Ginnie also noted that after Ed's post, the anonymous singer sent out ten cryptic emails to subscribers on his mailing list. In each email, there's a single photo of a Polaroid with a random sentence above it — and Swift went heavy on the Polaroid aesthetics in her 1989 era, as evidenced by the album's grainy cover art.
Some of those sentences in Ed's emails used words from Taylor Nation's tweet, such as "shimmering" and "sunlight," which could be coded to the "she shines so bright" line. Ed eventually uploaded all ten Polaroids to his official website; however, the images are blacked out. In the email, each Polaroid bared an image of what appears to be a crystal in various hues of blue. A third Swiftie, Nikki (@nikkiking23), revealed she tried clicking and shaking each blank polaroid on Ed's website, but no image appears.
While both these theories sound promising, some fans believe these aren't Easter eggs and are just simple posts. It's understandable why her stans would jump and dissect the smallest details, because anything can be a Easter egg in Swift's world.