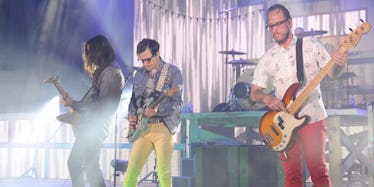 TBT: Channel Your Middle-School Self With This Rock Playlist For The Grammys
REX/Shutterstock
If you haven't heard already, the 59th Annual Grammy Awards are this Sunday, February 12.
And everyone is LIT because the list of performers is incredible, and features Beyoncé, her twins to be, Chance The Rapper, Katy Perry, Lady Gaga... the list goes on.
Yes, I'll be plastered to the television screen, breathing heavily, while all of my favorites perform.
But there's something about the Grammys that everyone missed, and it's got me riled tf up.
Basically all the artists nominated in the Best Rock Album category are from Gen Y's angsty pre-teen years.
There is nothing, I repeat, nothing, better than listening to Weezer after a long day of fighting the establishment.
So instead of getting all excited about the same people we always get excited about, let's throw it back to the years of braces, acne, awkward makeouts and sweaty palms.
Because even though that era is over, we can celebrate the fact we made it through, alongside some of our favorite artists.
So we made a playlist for each of them, just to remind you how damn good they were way back when – and apparently still are now.
Blink-182
If you say you didn't scream the lyrics to "All the Small Things" in the back of the car with your friends while your parents drove (and hated you), you are lying.
Panic! At The Disco
This one really hits home because I was OBSESSED with Panic! At The Disco. "I Write Sins Not Tragedies" was the first time I'd ever heard the word "goddamn" in a song.
As any real Panic! At The Disco fan would know, their best music is also the weirdest, and their new music is too normal – but we still love them.
Cage The Elephant
"Ain't No Rest For The Wicked" is undoubtedly one of the best songs to come out of the late '00s, and all the middle schoolers singing the song really had no idea what the song was talking about.
But now we know, and wished we didn't.
Gojira
Not going to lie, I've never listened to this band's music before. Death metal really isn't my thing, but these French guys have been nominated for a Grammy, so they must know what they're doing. (Also, fun fact: Gojira is the Japanese pronunciation of "Godzilla.")
We trusted Spotify's input on this playlist.
Weezer
Yes, I did save the best for last. This Grammy nomination proves a love of Weezer spans across at least two generations, if not more. They've evolved while simultaneously not changing their sound at all.
Time hasn't sucked the rock out of their sound -- '90s rock is not dead.
Weezer, I love you. Never leave me.
So tune in at 8 pm on Sunday to see who takes home the big prize, and until then, listen to these dope-ass playlists.