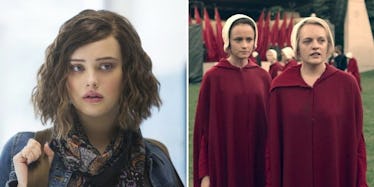 How '13 Reasons Why,' 'Handmaid's Tale,' & More Are Going From 1 Book To 2 Seasons
Netflix, Hulu
In case you haven't noticed, we're in the middle of a pretty interesting trend in TV right now.
Most of the breakout, hit shows that have premiered in the past year have one thing in common: They're based on books.
Although they've found success translating a book into a show in their premiere seasons, the real test will come with Season 2.
Buzzy new series like 13 Reasons Why, The Handmaid's Tale, Big Little Lies, and American Gods have all burned through their source material in Season 1, and now their showrunners are all facing the same dilemma: How can they continue the success into a second season without having a story to base it on anymore?
The interesting position has actually incited debate among fans of the shows over whether they should even do a second season. Many 13 Reasons Why fans fear another season will diminish Hannah Baker's story that's at the center of the book, and the director of Big Little Lies himself even said he's against doing a second season.
But despite that, Netflix picked up 13 Reasons for another season, and the success of BLL seems to make HBO ordering another season inevitable.
Of these four shows, 13 Reasons Why, The Handmaid's Tale, and American Gods have officially been picked up for second seasons so far, and HBO will likely be ordering a follow-up season for Big Little Lies soon enough. So they're all in the same boat of having to craft a completely new story in hopes of building on their breakout book-based success.
It's not a new situation, but it is probably the only time so many hit shows have been in it.
Perhaps the best example of this happening to a show before is HBO's The Leftovers. The first season was based on Tom Perrotta's sci-fi novel, but showrunner Damon Lindelof had to go to the drawing board after burning through the book's plot in Season 1 to come up with a story for the second season.
What Lindelof did was risky, but it turned out great for his show.
Season 2 of The Leftovers transplanted the whole cast to a brand new city in Texas, introducing a bunch of new characters and expanding on the central mythology by leaning into its sci-fi elements even more. It was a huge gamble but was lauded by most critics and fans as being even better than the show's first season.
So how likely is it that we'll be seeing this hugely drastic, Leftovers-style shift in story for the unwritten second seasons of these four shows? We can't be too sure, but it might help to analyze the Season 2 plot prospects of each of them one by one.
13 Reasons Why
Out of the four, we have the most details about what 13 Reasons Why is planning for its follow-up season.
The showrunners revealed Hannah's suicide will still be part of the story, and multiple characters will take over her narration duties. The Season 1 finale presented a few plot points that were never answered, so many fans are theorizing a school shooting perpetrated by Tyler will be a large part of the next run of episodes.
The Handmaid's Tale
Margaret Atwood's story about a woman's sexual enslavement in a dystopian future became such a big hit for Hulu the streaming service picked it up for a second season right after the first premiered. Now that the series has already told all of Offred's story as it appears in the novel, showrunner Bruce Miller has told IndieWire he's going to focus on the book's epilog (which is told from the perspective of a history professor) to expand on the intricacies of Gilead.
Big Little Lies
Though it's not picked up for another season yet and the director has even said he's against doing more, the show's stars are campaigning hard for another run of episodes. Additionally, the book's author has revealed she's working on a follow-up story to continue the series. She said the new season would likely focus on Zoe Kravitz's character, Bonnie, who we see killing Celeste's abusive husband in the finale.
American Gods
Rightfully sensing a hit, Starz renewed its religious epic American Gods just days after it premiered. But with the show's first season burning through Neil Gaiman's story about Shadow Moon's supernatural experience in a war of the Gods, fans don't know what to expect from Season 2. Gaiman told Entertainment Weekly he intends to write a sequel to his original novel, but he is working on a bunch of other books right now, so he probably won't be getting it done before the series returns. This one's really anyone's guess as to where the show will go once it's off-book.