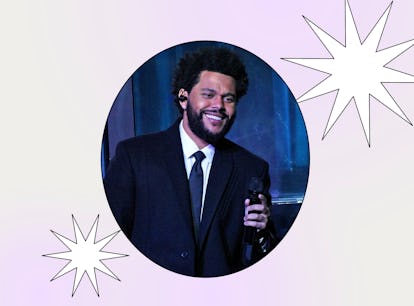 The Weeknd's "Double Fantasy" Is A Bop For Toxic Anti-Heroes
"Baby girl, I can tell you think that I'm right for you / I already know that it's not true."
Kevin Mazur/Getty Images Entertainment/Getty Images
On weekend one of Coachella, The Weeknd made a surprise appearance during Metro Boomin's set on Apr. 14. While there, the singer performed an unnamed track that appeared to have producing credits from Metro and synth maestro Mike Dean. Now, nearly a week after he teased the track, he released it for the masses. On Apr. 21, The Weeknd dropped "Double Fantasy" featuring Future, the lead single on the soundtrack of his upcoming HBO series The Idol. If this track is any indication, the star has returned to his brooding, anti-hero roots — then again, he never truly left.
Though "Double Fantasy" is the show's sonic debut, this isn't exactly the first taste of The Idol. In early March, The Weeknd shared a first look at a scene from the series. The drop was actually a clapback at Rolling Stone, which published a report sourcing several unnamed members of The Idol's cast and crew and detailed turmoil and mismanagement behind the scenes of the star-studded HBO show.
As for "Double Fantasy," this is certainly a savory glimpse of The Idol. Sonically, this track has those subtle contours of The Weeknd's toxic persona that's made creations like After Hours and Kiss Land mesmerizing. Only this time, listeners aren't seeing the world through the singer's nihilism, but rather his Idol character named Tedros.
The Weeknd and his character — which he revealed he wrote — share eerily similar perspectives: They're self-aware villains who have emotionless sex and indulge in self-destructive behavior. They know the world shouldn't root for them, but that doesn't stop them from bringing out the worst in those around them. In the case of The Idol, Tedros is using his ominous charm to mold Jocelyn (Lily-Rose Depp) into the pop star he wants her to be. It doesn't help that he's also a mysterious club-owner-meets-cult-leader, so the power he holds has to be treacherous. Let's dive into the lyrics.
Opening with lush synths and a vibrant saxophone solo, this blend calls back on the electro-jazz textures on The Weeknd's Dawn FM album. That's not the only sonic beauty on this record. For a brief moment, an interpolation of "Do It," an underrated gem from The Weeknd's 2012 The Noise EP, can also be heard in the distance. Beginning with the pre-chorus, the singer discovers something captivating about his partner. Instead of just admiring it, Tedros' self-indulgent narcissism shines through, and he believes he's the only man who could elevate her.
"Temperature risin', bodies united / Now that I trapped you in my arms / No need to fight it, no need to hide it / Now that I see what's in your heart / Baby girl, I'm the only one who knows this side of you / And baby, you know that I can pull out what's inside of you."
Then, in a soft wail, The Weeknd repeatedly sings: "Even though it's wrong." He knows he has the power to destroy everything he touches, but he keeps that at bay when fawning over his love interest. The singer glides to the first verse, where he realizes his partner is slowly falling for him. She's so enamored with his presence that she's convinced he's right for her, but even he knows that isn't true:
"Girl, when you ride it, see you decide it / Don't say those words that you'll regret / Baby girl, I can tell that you think that I'm right for you / I already know that it's not true, but girl, I'll lie to you."
The Weeknd continues building up his toxic character until Future's verse, which has a similar approach to his own unhealthy relationship. He raps:
"You possess venom, that came with a charm / You get the good out me when I perform / I know the bad in you, that's what I want / And you a baddie, you turnin' me on / Fiend for your demons, I know where this goin'."
After his verse, The Weeknd hits a few high notes, leaving that reminder that he's not right for his partner. "Double Fantasy" isn't as ominous as the toxic takes on his other albums; however, it's still dark enough to know that this is his lane. Check out the music video for the track below, and full lyrics at Genius.