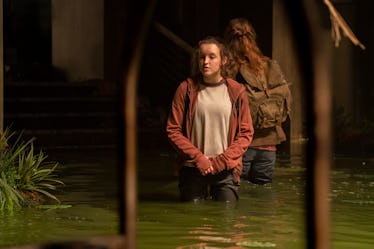 The Last Of Us' Episode 3 Promo Finally Introduces Bill & Frank
Liane Hentscher/HBO
HBO's The Last of Us is the cable channel's first-ever series based on a video game, and like the network's other significant productions like Game of Thrones, it has not disappointed fans right out of the gate. The series stars only two main characters, Joel (Pedro Pascal), the protagonist from the video game, and Ellie (Bella Ramsey), his charge. But there are other major names on the way, as The Last Of Us' Season 1, Episode 3 promo introduces two fan-favorites: Bill and Frank.
Warning: Spoilers for The Last of Us Season 1, Episode 2 follow. Set in the present day of 2023, The Last of Us posits that 20 years ago, a fungal infection tore through the human population, infecting millions. Known as the Cordyceps infection, the resulting parasitic disease turns its host into shambling walking corpses — zombies, albeit ones that stem from an actual scientific possibility.
Joel lost his daughter early on in the resulting melee, but his brother, Tommy, is still alive. The series began when Tommy contacted Joel, a mercenary, and his partner, Tess (Anna Torv). The two were given custody of Ellie, who was revealed to be immune to Cordyceps at the beginning of the second episode. However, this band of three didn't last long, as both Ellie and Tess were bitten. Ellie healed, proving her immunity, but Tess, knowing she was done for, stayed behind to take out the horde of infected rebels after them, apparently blowing herself up in the process.
Next up, The Last of Us Season 1, Episode 3 is titled "Long Long Time," after the 1970s Linda Ronstadt song. For fans of the video game, the more important fact is that it will introduce two major characters: Joel and Ellie encounter Bill and his partner, Frank.
Bill and Frank are initially mentioned in the series premiere as a pair of smugglers with whom Tess has had contact and who communicate via radio songs. (And if fans haven't caught on yet, if music from the 1980s is playing, there's danger nearby.) However, with Tess gone, Joel has little choice but to take Ellie and head for their ranch. The teaser begins with Frank and Bill's first meeting and backstory on how their partnership began. This also suggests the series may upend Joel and Ellie's experience at the ranch, as in the game, only Bill will still be alive when they arrive.
The Last of Us continues with new episodes every Sunday at 9 p.m. ET on HBO and streaming on HBO Max. Like the first two episodes, Episode 3 is a supersized installment, with HBO listing it as an hour and 20 minutes.