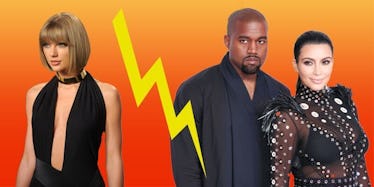 Taylor Swift's BFF Is Getting Death Threats After Tweeting About Kim K And Kanye
REX/Shutterstock
This country is being forced to choose between the lesser of two evils that, once awarded victory, will surely usher in the darkest age in American history.
No, stop, I'm not talking about the presidential race, RN.
The battle for redemption in the eyes of the public rages on between Taylor Swift and Kanye West following Kim Kardashian West's release of a damning video on Snapchat suggesting Taylor knew all about Kanye's misogynistic mention of her in his song "Famous" prior to its release.
Stars have already spoken out to take sides on the matter and, based on this expert roundup by Elite Daily's own Anna Menta, most seem to be standing in solidarity with the Wests.
To her credit, though, Tay Tay will always have the support of childhood friend Abigail Anderson, who went on a since-deleted Twitter rant Monday in which she prayed for Kimye's daughter, North West.
According to US Weekly, the OG Swiftie wrote,
Lord, hear my prayers… I pray God helps your daughter understand, that despite how many times she'll hear daddy reference all women as 'bitches,' she isn't one… I pray she understands her father actually IS faithful to her mother, despite all the adulterous comments she will hear her father making… I pray that she will understand 'adultery and bitches' are just daddy's form of art and not to worry because not every man thinks like him… Lastly, I pray for forgiveness. May God forgive you & your wife for doing to others the very things you pray are NEVER done to your daughter.
She deleted the rant after receiving death threats from Kimye fans invested in exposing Taylor's deception.
In the event Taylor decides to file a lawsuit against Kim and Kanye under California's wiretapping law, Abigail will be by her side through the worst of it, adding she'll "always stand by my best friend."
As celebrities and normals alike continue to fall on either side of a fence built on what is likely the dumbest battlefield of all time, I encourage you to consider the odds both Taylor Swift AND Kanye West (and Kim Kardashian, I guess, since she's so desperate to be part of this) are profiting off Kanye's marginalization of women.
Maybe we should abandon them both and choose a third side to support.
What's Malala up to this week? Just saying.
Citations: Taylor Swift's BFF Abigail Goes on Rant About Kanye West: I Pray for Your Daughter (US Weekly)