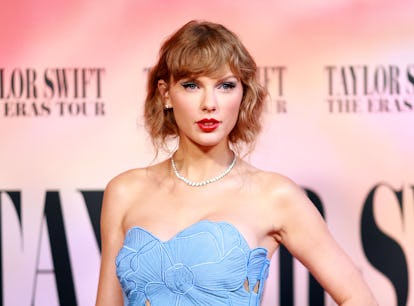 Taylor Wrote "You Are In Love" About This Celeb Couple
They're both married to different people now.
Matt Winkelmeyer/Getty Images Entertainment/Getty Images
Swifties know that one of Taylor Swift's most romantic songs was first released on the deluxe edition of 1989 back in 2014. In "You Are In Love," Swift sings about an enduring kind of love — one that feels comfortable, like being in a relationship with your best friend. Unlike many of Swift's songs, this track does *not* come from personal experience. "You Are In Love" was actually inspired by the love story between two of Swift's best friends: Jack Antonoff and Lena Dunham.
Antonoff and Dunham were together for six years before breaking up in January 2018. (Swift originally released "You Are In Love" in October 2014.) In 2012, the couple was set up on a blind date by Antonoff's sister Rachel Antonoff and comedian Mike Birbiglia, per People.
Over the course of their relationship, there were plenty of everyday highlights, which Swift focused on in the song. "Morning, his place / Burnt toast, Sunday / You keep his shirt / He keeps his word," she sings.
Later in the song, she retells the story of their first major milestone, singing, "One night he wakes / Strange look on his face / Pauses, then says / You're my best friend / And you knew what it was / He is in love."
According to Swift, the inspiration behind this song came directly from Antonoff and Dunham. When asked about the "You're my best friend" lyric by Elle in 2015, Swift explained, "Yeah. I've never had that, so I wrote that song about things that Lena has told me about her and Jack. That's just basically stuff she's told me. And I think that that kind of relationship — God, it sounds like it would just be so beautiful — would also be hard. It would also be mundane at times."
Apparently, the song came to Swift after Antonoff sent her the instrumentals. In October 2014, she told Jimmy Kimmel:
I wrote it with my friend Jack Antonoff who's dating my friend Lena. Jack sent me this song, it was just an instrumental track he was working on and immediately I knew the song it needed to be. And I wrote it as a kind of commentary on what their relationship has been like. So it's actually me looking and going, 'This happened and that happened, then that happened and that's how you knew you are in love.'
While writing the song, Swift didn't tell Antonoff or Dunham that they were her inspiration. She didn't want to seem "creepy," she explained in a 2014 MTV video with Antonoff. However, she eventually came clean.
In the MTV video, Swift told Antonoff, "These lyrics that I [was] writing were channeling everything Lena's told me about the two of you ... You guys are like the benchmark of actual true real love."
As the song goes, "'Cause you can hear in the silence / You can feel it on the way home / You can see it with the lights out / You are in love, true love."
So, how did Antonoff and Dunham go from inspiring this track to breaking up four years after its release? In May 2018, Dunham wrote about their breakup for Vogue, five months after the fact:
We sat in our shared kitchen of nearly four years and quietly faced each other, acknowledging what nobody wanted to say. That obsessive connection had turned to blind devotion, and the blinders were coming off to reveal that we had evolved separately (the least shocking reason of all and perhaps the most common). That anger wasn't sexy or sustainable. That our hearts were still broken from trying so hard to fix it but no longer uncertain about whether or not we could. The finality nearly killed me.
Two years later, in 2020, Dunham told Cosmopolitan UK they were still "dear, dear" friends.
Now, both Antonoff and Dunham are married to different people. Dunham wed musician Luis Felber in September 2021, and Swift was one of her bridesmaids. Swift was also on the guest list in August 2023, when Antonoff married Margaret Qualley.