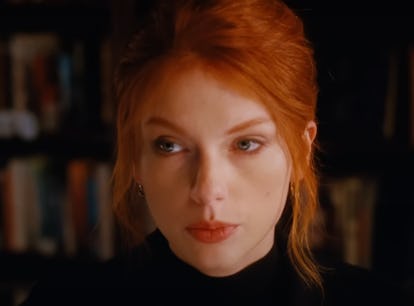 BookTok Has A Convincing Theory Taylor Swift Is About To Release A Memoir
YouTube
Everyone knows Taylor Swift is a master songwriter, but she might secretly be writing more than music. At least, that's the current theory taking over BookTok. The literary side of TikTok has latched onto a new theory that Swift is planning to surprise-release a memoir shortly after Speak Now (Taylor's Version) drops this summer. There are a bunch of clues convincing fans this theory could really hold water, so let's dive into all the details.
The whole hubbub started with an Instagram post from a bookstore in Blacksburg, Virginia. In the since-deleted post, the shop drew attention to an untitled memoir from Flatiron Books set to be released on July 9. The post emphasized how bizarre it was for a publisher to withhold all information about an upcoming release, especially keeping its author completely anonymous. It also claimed that the mysterious book will have a "huge initial print run."
When a screenshot of the post made its way into the Swiftie fandom, it exploded — especially after fans began picking apart details in Swift's announcement of Speak Now (Taylor's Version). Her note included the phrase "Dear reader," which is a reference to her Midnights bonus track with the same name, but seen in this new light, could have also been a literary clue.
Swift also shouted out July 9 — the day the mystery book is set to be released — in her Speak Now (Taylor's Version) announcement. She wrote that the re-release's July 7 drop date would arrive "just in time for July 9th, iykyk." Fans caught that as a reference to the lyrics of her Speak Now track "Last Kiss," but it could have a double meaning as a nod to her memoir's release date.
TikTokers jumped on the theory and added more convincing details, like how Swift recently played an author in her All Too Well short film, and the timeline presented in that video points to her publishing a book 13 years after Speak Now's release in 2010, which would be this year.
Fans only grew more suspicious when a New York-based bookstore employee revealed he was asked to take down a TikTok speculating about the mysterious book. He'd previously stated that more information about the memoir would be released on June 13, which is, of course, Swift's lucky number.
So, is the ultimate Swiftie summer read about to hit bookshelves this July? Hopefully new details do arrive on June 13, or at least Swift will drop a few hints. But until then, we're just left with our theories.