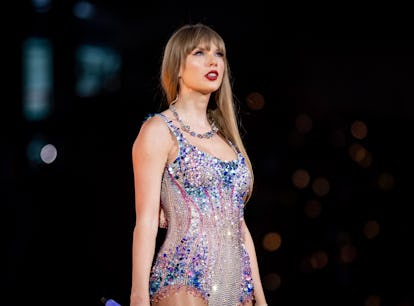 Taylor Swift Deleted An Instagram Referencing Joe Alwyn
Terence Rushin/TAS23/Getty Images Entertainment/Getty Images
Unlike influencers, most A-list celebrities don't confirm their breakups with an Instagram story. When it comes to Taylor Swift and Joe Alwyn, fans have been hesitant to believe the split rumors, waiting for direct confirmation that (most likely) is not coming. The next best thing? A sneaky Instagram delete. On April 30, fans noticed that Swift deleted one of her old Instagram posts — one of the only ones directly referencing her relationship with Alwyn.
In October 2022, Swift posted about her single "Lavender Haze" leading up to the release of Midnights. Explaining the title and meaning behind it, Swift said, "I happened upon the phrase lavender haze when I was watching Mad Men, and I looked it up because I thought it sounded cool. It turns out that it's a common phrase used in the '50s where they would just describe being in love. Like, if you were in the lavender haze, then that meant you were in that all-encompassing love glow. And I thought that was really beautiful." She added that it reminded her of her six-year long relationship: "We've had to dodge weird rumors, tabloid stuff and we just ignore it... And so this song is sort of about the act of ignoring that stuff to protect the real stuff."
Though Swift has kept quiet on her reported breakup, fans are reading the subtle IG delete as a sign that things are over — "weird rumors" aside.
However, some fans are holding onto hope that this is a sign of something else to come — something like "Karma." Considering Swift also changed the link in her IG bio from the "Lavender Haze" music video to her website, fans are thinking she could be making room for a new music video to take its place.
Important note: You can add more than one link to your IG bio, and post more than one reel. Only time will tell which of these fan theories is true (if any), but in the meantime, at least you can still watch the "Lavender Haze" music video — just not directly from Swift's bio.