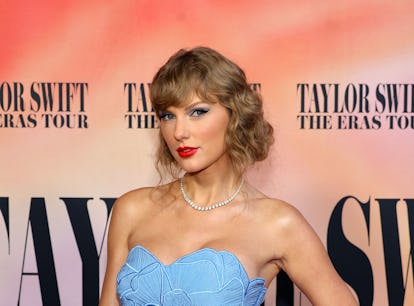 Taylor Swift Just Shut Down All Those Gaylor Conspiracy Theories
It's so over for Gaylors.
Matt Winkelmeyer/Getty Images Entertainment/Getty Images
Swifties love a good conspiracy theory. We all know this. Taylor Swift has trained her fanbase to overanalyze ever minuscule detail about her life to hunt for Easter eggs and lyrical references. And all that sleuthing has given rise to a very niche but dedicated subset of the Swiftie fandom: Gaylors.
Gaylors believe that Swift has been hiding romantic relationships with famous women from the public for years, using her high-profile boyfriends merely as a smokescreen. They've spent years picking apart specific lyrics and zooming in on paparazzi photos looking for clues that Swift may have dated women. The most famous Gaylor subjects have been Swift's former friend Karlie Kloss, and her other estranged bestie Dianna Agron.
Swift has remained quiet on this sector of her fandom for years, but finally addressed her discomfort with the Gaylor theories in the prologue to 1989 (Taylor's Version). She wrote about her decision to cut things off with men during her 1989 era.
"It became clear to me that for me there was no such thing as casual dating," Swift wrote. "Or even having a male friend you platonically hang out with. If I was seen with him, it was assumed I was sleeping with him. And so I swore off hanging out with guys, dating, flirting, or anything that could be weaponized against me by a culture that claimed to believe in liberating women but consistently treated me with the harsh moral codes of the Victorian era."
Instead, Swift focused on her circle of female friends, thinking that would finally get people to stop talking so much about her love life. "Being a consummate optimist, I assumed I could fix this if I simply changed my behavior," Swift continued. "I swore off dating and decided to focus only on myself, my music, my growth, and my female friendships."
Swift was disheartened when her fans began speculating she was hooking up with her friends during her attempt to shift the narrative away from being sexualized. "If I only hung out with my female friends, people couldn't sensationalize or sexualize that, right? I would learn later on that people could and people would," Swift wrote.
In another section of the album notes, Swift also shot back at the narrative her 1989-era "squad" was some evil cult. "You, who knew that maybe a girl who surrounds herself with female friends in adulthood is making up for a lack of them in childhood (not starting a tyrannical hot girl cult)," Swift wrote.