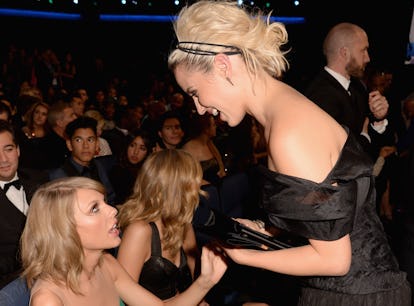 Dianna Agron Responded To *Those* Taylor Swift Rumors
Raise your hand if you're still confused.
Jeff Kravitz/AMA2014/FilmMagic, Inc/Getty Images
For over a decade, fans have speculated about Taylor Swift and Dianna Agron's relationship. Back in 2012, the two were close friends, often hanging out and posting with each other — but some Swifties think there was more to their connection. (The prevailing theory is that Swift's song "Wonderland" is about Agron, who used to have an Alice In Wonderland tattoo.) The speculation has been left largely unaddressed by both Swift and Agron... until a Rolling Stone interview with Agron was published on May 7.
In the interview, Agron was asked about Swift, specifically how she felt about fans "shipping" the duo together. Her response? "That is so interesting. I … I mean, there have been many stories about my dating life that are so wildly untrue. That's funny," she said. Not sure if that cleared anything up, but OK!
The Glee alum also commented on Swift's song "22." (JSYK, in the original Red album lyrics booklet, Swift left a code in the lyrics of "22," which read, "ASHLEY DIANNA CLAIRE SELENA," aka Ashley Avignone, Dianna Agron, Claire Kislinger, and Selena Gomez.) When asked about being the inspiration for the tune, Agron replied, "Me? Oh, if only!" answered the actress. "That's more because of a friendship than being the inspiration for the song." She continued, "I would not be the person to ask about that. I cannot claim that!"
Later, when asked about a different, Glee-related rumor surrounding Cory Monteith's tribute episode, Agron opened up more about the toll of fake rumors. "I think there are so many false pieces of information out there," she explained. "That's the weirdest thing that you have to learn in this industry — you don't comment on things that are untrue, because that gives them more space. Maybe at the end of my career I'll write a book and go into detail on everything that was very true and very untrue."
Well, it seems like Swifties will have to wait for Agron's book if they want any more details on their relationship.