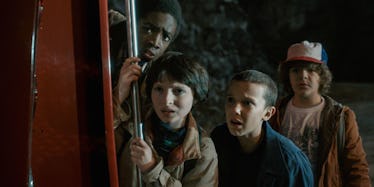 Netflix Confirmed There Will Be Another Season Of 'Stranger Things' With A Creepy Trailer
Netflix
Anyone with a Netflix account has probably watched "Stranger Things" by now or at least flirted with the idea of binge-watching the entire series in one day.
If you haven't, get on that ASAP. It's some seriously good TV. Even if you're not into weird fantasy or sci-fi stuff, just watch for the fact it takes place in the '80s. You'll be hooked in no time.
Like any good show, the eight episodes of season one left us hanging, giving us way too much rope to work with when it comes to fan theories.
I'm not going to spoil the ending if you haven't watched it, but trust me when I say we would have all been incredibly surprised if the show didn't get picked up for a second season.
Luckily, Netflix announced season two will premiere sometime in 2017 and gave us a creepy trailer that only leads to more questions.
All we see are a list of random places and things while red letters take form in the background. Instead of the words "Stranger Things" coming together, the letters take shape as "Season Two." We see what you did there, Duffer brothers.
Here's the list from the trailer again:
Madmax The Boy Who Came Back to Life The Pumpkin Patch The Palace The Storm The Pollywog The Secret Cabin The Brain The Lost Brother
Entertainment Weekly confirmed the words listed are the titles of the nine episodes in the new season. These vague names only fuel the fire for fan speculation, and I don't know if I can wait an entire year.
Citations: 'Stranger Things' Season 2 confirmed in a puzzling teaser (Mashable)