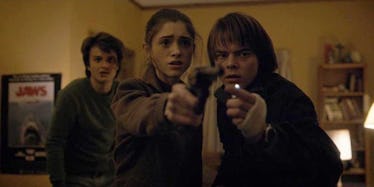 'Stranger Things' Co-Stars Might Be Dating IRL, According To Awkward Video
Netflix
As we all wait for season two of "Stranger Things" to finally get here, it seems like Jonathan Byers and Nancy Wheeler have found something to occupy their time.
And that something is TOTALLY HOOKING UP AND KISSING EACH OTHER'S FACES! ...Maybe.
Nothing has been officially confirmed, but there is this super awkward, and kind of telling video of actors Natalia Dyer and Charlie Heaton, who play the on-screen love interests.
TMZ approached the actors at LAX on Wednesday and started asking about their IRL dating rumors.
And their answers were... strange.
Looking extremely uncomfortable, Dyer said,
Whether people are dating or hanging out, I think that our cast is just cool with each other. I won't speak for anyone else, but it's just, you know... We're all one big family.
When pressed further, Heaton chimed in, saying,
I think there's a lot of buzz about the show, so people like to read into certain things.
But then Heaton also admitted it makes sense to read into the fact that he and Dyer were hanging out together. And when asked outright if they were dating, the two simply walked away.
Sooo yeah, kind of seems like these two are dating.
*Very mild "Stranger Things" spoiler alert.*
Despite their characters' chemistry on the show, Jonathan and Nancy haven't gotten together yet.
Although fans thought they might after they teamed up to defeat the Demogorgan, the season ended with Nancy still together with Steve, aka actor Joe Keery.
But who knows what we can expect from season two? I mean, let's not rule out a throuple, I'm just saying.
Based on the one trailer we got for season two last month, so far we know very little, besides the fact that it's going to be intense AF.
And we also know we'll be seeing at least three new faces joining the cast.
Unfortunately, we have to wait until next Halloween to get all the answers. See you in the Upside Down then!