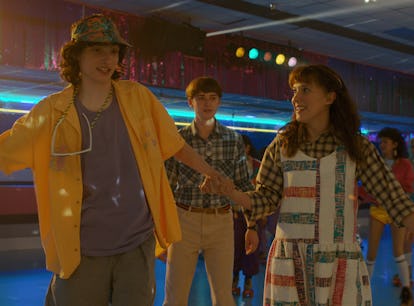 The Stranger Things 4 Trailer Has Sparked So Many Good Fan Theories
May 27 cannot come soon enough.
Courtesy of Netflix © 2022
Since Stranger Things 3 ended with the crew going their separate ways, many fans have wondered how the supernatural crime-fighting kids would find their way back to their hometown of Hawkins, Indiana. In the meantime, theories have run the gamut, ranging from Season 4 being a Hopper-centric story to Chernobyl being a significant factor playing a role in the plot. But now that there's actual footage from the new season, fans have a whole new slew of ideas about what the new episodes will bring. These Stranger Things 4, Volume 1 theories based on the trailer may sound wild, but there's a logic to every single one.
Those who have been on the fan theory hunt since the end of Season 3 should be proud of their efforts. Even the Duffer brothers are into them, with Ross telling Variety, "I'm constantly impressed with how sharp the fans are and how quickly they're able to put something together with very, very little information." The series creators even admitted that some the theories have been "startlingly accurate."
And those theories were based on almost no information. Now that there are three whole minutes of footage from the official trailer, here are the new ideas emerging about the new two-part season: