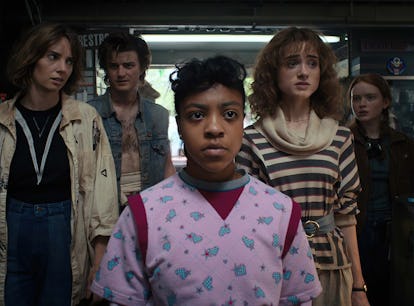 The New Stranger Things 4 Poster Is Full Of Clues About The Final 2 Episodes
Netflix
From Game of Thrones to Westworld, some shows just lend themselves to fan theories and speculation. Netflix's Stranger Things falls solidly into that category. The series is well known for tantalizing fans with plot points to ponder — and not just in its episodes. Nearly every piece of promotional material leading up to a new batch of episodes dropping is riddled with, well, riddles for fans to work out and glean some intel about what's to come. The Stranger Things 4, Vol. 2 poster is no different; it's filled with hidden clues that may point to what's going to happen next — although there are probably a few red herrings in there, too.
Warning: Spoilers for Stranger Things Season 4, Vol. 1 follow. Stranger Things may have abruptly ended with two episodes still to go when Volume 1 arrived back on May 27, but the setup for the showdown was already in place: Vecna turned out to be Henry Creel, the son of Victor Creel. He'd gone into a coma after slaughtering his mother and sister and pinning the whole thing on his father. Then, Dr. Brenner took him in and turned him into MKUltra's first test subject, Number One.
Whether Number One has been behind the treacherous antics of the Upside Down in Hawkins this whole time remains to be seen. What is certain is that One and Eleven are heading for a showdown. The poster for Volume 2 has several details that could be clues to the show's conclusion.
Stranger Things Season 4, Vol. 2 arrives July 1, 2022.