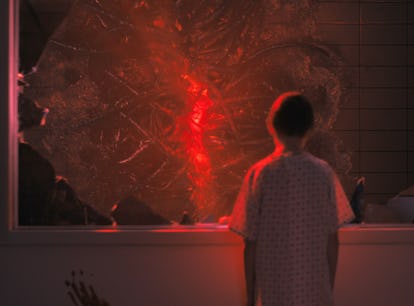 Fans Are Convinced A Major Character Won't Make It In Stranger Things 4, Vol. 2
Netflix
After being Netflix's flagship show since its debut in 2016, Stranger Things changed its release schedule for Season 4. Due to the multiple delays stemming from the 2020 shutdowns, the producers released the first seven episodes in one batch, with the last two (feature-length) episodes to come a month later since they weren't quite finished in time. But these theories about who in Stranger Things 4, Vol. 2 won't make it to Season 5 suggest the month-long wait until the last two episodes will keep fans anxiously guessing.
Warning: Spoilers for Stranger Things 4, Vol. 1 follow. The first seven episodes of Stranger Things 4 end with a huge reveal. Unlike in the first three seasons, the antagonist isn't some abstract malevolent monster demon; it's a real person. Brenner's original Hawkins Lab test subject, Number One, formerly known as Henry Creel, was pushed into the Upside Down by accident when Eleven defeated him in a telekinetic battle. He is now one with the Upside Down... and seeking vengeance.
Viewers assume the final showdown (either in this season or in Season 5) will be Number One versus Number Eleven. But the real concern is the collateral damage along the way. Speaking to Variety, the Duffer Brothers confirmed "everybody is in danger" and audiences should "be concerned about the characters going into Volume 2."
So, who will be voted "Most Likely To Be Offed" in Volume 2? Here's a rundown of the top theories.
Strange Things Season 1 through 3 and Season 4, Vol. 1 are streaming on Netflix. Season 4, Vol. 2 arrives on Friday, July 1.