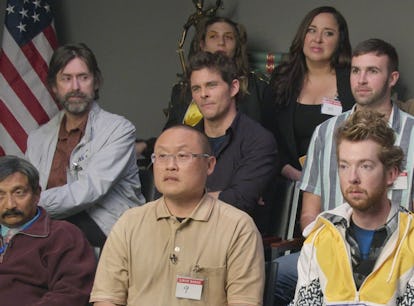 Here's Where You Prob Recognized Some Of The Jury Duty Actors From
If only Ronald had seen these shows...
Amazon Freevee
The casting process for Jury Duty must have been incredibly tricky. Not only did the production team have to track down the perfect everyman to mess with, they also had to hire a very specific group of actors. The catch being that these actors had to be sharp improvisers with television experience, but also not be recognizable to the general public. But, because these are all working actors, there's a good chance you've probably seen them pop up in a TV show or movie before, even if you may not quite remember it. Well, it's time to refresh your memory, because here's where you probably recognize all those familiar faces from Jury Duty.
Pretty much every actor cast for Jury Duty is a trained improviser, and as such, they've used their comedy chops to book recurring roles or guest spots on plenty of sitcoms and movies over the years. They may not have starring roles — you can't have anyone stealing James Marsden's spotlight, after all — but a lot of the actors have played memorable characters for comedy fans. If you found yourself wondering, "Where do I know them from?" while you were watching Jury Duty, then this rundown of what the cast has been in before is for you.
Kirk Fox (played Pat, Juror #1)
For comedy fans, Kirk Fox may have been the most recognizable face among the jury. He's appeared in tons of hit sitcoms, including Community, Brooklyn Nine-Nine, and Reno 911. He's probably best known for playing Sewage Joe on multiple episodes of Parks & Recreation.
Mekki Leeper (played Noah, Juror #11)
If you're a Sex Lives of College Girls fan, then you recognized one juror immediately. Mekki Leeper plays Eric on the HBO Max series.
Maria Russell (played Inez, Juror #10)
Maria Russell had a long list of credits before portraying the adversarial juror Inez. She's appeared on hit shows like Grey's Anatomy, Teen Wolf, and It's Always Sunny in Philadelphia. Most recently, she popped up as a member of the judgy moms clique in Netflix's The Woman in the House Across the Street from the Girl in the Window.
David Brown (played Todd, Juror #2)
There's no denying Todd stole the show on Jury Duty, and that's because David Brown has an impressive comedy career. He's appeared in movies like I Used to Go Here and The Year Between.
Edy Modica (played Jeannie, Juror #4)
Edy Modica let her freak flag fly as the anarchist Jeannie, just like she did when she starred in an episode of HBO's stoner comedy High Maintenance.
Ishmel Sahid (played Lonnie, Juror #13)
Before he became Lonnie for Jury Duty, Ishmel Sahid was best known for starring in children's shows like Nickelodeon's Cousins for Life and That Girl Lay Lay. He also made a guest appearance as a music teacher in an episode of The Mindy Project.
Cassandra Blair (played Vanessa, Juror #6)
Cassandra Blair has popped up on a ton of hit shows before playing Vanessa on Jury Duty, including Westworld, 9-1-1, and Better Things. She also showed up on Hacks, playing a Las Vegas tour guide.
Ron Song (played Ken, Juror #9)
Ron Song came into his acting career later in life, and now he's a total star thanks to Jury Duty. Prior to that, he starred in the comedy series Home Work and popped up in shows like From Scratch and Dave.
Susan Berger (played Barbara, Juror #5)
Susan Berger put on quite the show as the sleepy Barbara. She has a long list of acting credits dating back to appearance on hit shows in the '70s and '80s like Hawaii Five-O and M*A*S*H. She still works regularly today, having appeared in American Horror Story, Hannah Montana, Grey's Anatomy, and just about every modern sitcom. She memorably played a power-walking senior helping Jake Peralta in an arc on Brooklyn Nine-Nine.
Ross Kimball (played Ross, Juror #12)
Ross Kimball has been in the comedy scene for years, which is what made his performance as the lonely teacher Ross so perfect. Prior to Jury Duty, he's appeared in comedies like Superstore, Champions, and Love, as well as laugh-out-loud movies like Mascots and Queenpins. His biggest role was in the 2016 Kristen Wiig comedy Masterminds.
Pramode Kumar (played Ravi, Juror #3)
Like most of the rest of the Jury Duty actors, Pramode Kumar has a long list of guest spots in network sitcoms, like Shameless, Superstore, My Name Is Earl, and Raising Hope. He's also appeared in major movies like Her and Birds of Prey.
Rashida Olayiwola (played Bailiff Nikki)
The no-nonsense Bailiff Nikki was a different role for Rashida Olayiwola. The comedy writer has previously appeared in guest spots on hilarious sitcoms, including Insecure, A Black Lady Sketch Show, and South Side. Post-Jury Duty, she's flying into the Marvel Cinematic Universe with a role on Ironheart.
Alan Barinholtz (played Judge Alan)
Alan Barinholtz didn't have much trouble getting into his character for Jury Duty — he's actually an attorney in real life. He's also the father of comedic actors Ike Barinholtz (The Mindy Project) and Jon Barinholtz (Superstore). Alan has acted before in Ike's 2018 movie The Oath, as well as a small part in History of the World: Part II.
James Marsden (played James Marsden)
Obviously, you already know James Marsden, whether it's from Enchanted, X-Men, 27 Dresses, Westworld, Dead to Me, The Notebook, or any of his several other hit movies or TV shows. But for Ronald, the ultimate Marsden role is one you may not be as familiar with: his lesser-known 2008 comedy Sex Drive.