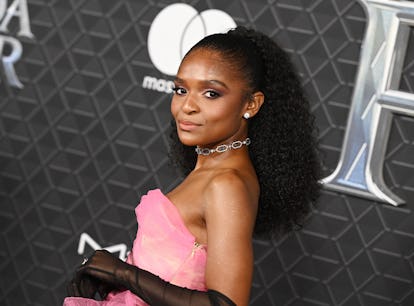 Everything To Know About Ironheart After Seeing Black Panther 2
Riri Williams will be back soon.
Gilbert Flores/Variety/Getty Images
Marvel's Disney+ lineup started with shows starring characters fans know: WandaVision, The Falcon & The Winter Soldier, Loki, and Hawkeye. In 2022, the company expanded with new characters who still sound familiar: Moon Knight, Ms. Marvel, and She-Hulk. But come Phase 5, the lineup will start adding multiple series that expand the Marvel Cinematic Universe in new directions, including Ironheart, featuring Dominique Thorne as genius inventor Riri Williams.
If "genius inventor," "superhero," and "iron suit" sound familiar, they should. Iron Man, the original superhero that kicked off the Marvel Cinematic Universe, was precisely that, a genius inventor whose superhero powers came not from potions or alien planets but from a suit he invented. Ironheart is about the next generation, a college student named Riri Williams, who creates "the most advanced suit of armor since Iron Man."
Don't worry if you haven't heard of Riri before; the comic the series is based on is relatively new; it was first released in 2016. The character, played by Dominique Thorne (If Beale Street Could Talk), made her debut on the big screen as part of Black Panther: Wakanda Forever. Now, she's heading off to the series that bears her name on Disney+.
So, what should fans know about Ironheart? Here's everything so far.
Ironheart Plot Details
The comic book origin story introduces Riri Williams as a 15-year-old super genius attending MIT instead of high school. Her mother and aunt live in Chicago, where they moved after the passing of Riri's father, Riri Sr. Riri builds an Iron Man-type suit after being told she would never be able to accomplish such a thing, and takes off when campus security catches her stealing scraps from around campus to improve it. Tony Stark hears about her, finds her, and encourages her to step up to the superhero plate.
Some of that has changed with the introduction of Riri in Black Panther. Riri is 19, not 15, and she builds a vibranium detector because she's told it's impossible; the suit is just a side project. It's the CIA that comes after her, not campus security. And with Tony Stark gone from the MCU, it's Queen Romanda, Shuri, and Nakia who inspire Riri to take up the superhero mantle.
That said, the deceased father and his sweet ride are still part of the story, as are her mom and aunt in Chicago, where Riri heads at the end of the film. Where the story goes from here is anyone's guess, but the setup seems to point to another possible member of the Young Avengers coming of age.
Ironheart Cast
Dominique Thorne will play the titular Ironheart, Riri Williams. Her casting was part of the initial announcement of the series as part of Disney+'s 2020 Investor Day presentation.
On Feb. 9, 2022 Deadline reported In the Heights star Anthony Ramos was "set for a key role" in the series, which was later revealed to be Parker Robbins/The Hood, a leader of one of New York City's major crime syndicates. His father, Robbins Sr., worked with the Kingpin; Parker witnessed Daredevil battle Electro at an impressionable age. Parker stepped into the underworld when his father passed away, to support the family. How much of this will be in the Ironheart series remains to be seen, but it suggests the series will tie into Echo and Daredevil. He is described as a "friend to Williams," which is an interesting twist for someone who has traditionally been a villain.
Lyric Ross, of This Is Us fame, was also announced in February to be joining the Marvel world as Natalie Washington, Riri's BFF.
A slew of castings followed those two announcements over the spring of 2022, including Manny Montana (Good Girls), Alden Ehrenreich (Solo: A Star Wars Story), Shea Couleé from Season 9 of RuPaul's Drag Race, Zoe Terakes (Nine Perfect Strangers), Regan Aliyah (XO, Kitty), Shakira Barrera (GLOW), Paul Calderón (Pulp Fiction), and Cree Summer (A Different World). Also joining the series: Rashida "Sheedz" Olayiwola and Sonia Denis from A Black Lady Sketch Show and newcomer Harper Anthony.
Additionally, Sacha Baron Cohen (Borat) is rumored to be cast in a significant role, but Marvel has not commented on this. Jim Rash will return as the dean of MIT, a role he last played in the Captain America franchise.
Ironheart Filming Updates
In April 2021, it was confirmed Chinaka Hodge (Snowpiercer) had been tapped as head writer/showrunner for Ironheart.
The show began filming in June 2022 in Atlanta before moving to film on location in Chicago in September. Filming wrapped at the beginning of November, just before the premiere of Wakanda Forever.
Ironheart Trailer & Release Date Predictions
With Ironheart filming completed just before the debut of Black Panther 2, the first footage could come in December 2022 as part of a Disney+ lookahead. An actual trailer likely won't arrive until at least early 2023, if not later.
As for a series premiere date, Secret Invasion and Armor Wars are also slated to arrive in 2023, with the former wrapping filming before Ironheart, suggesting the order of release for 2023 will be Secret Invasion, then Ironheart, with Armor Wars rounding out the slate.
This article was originally published on