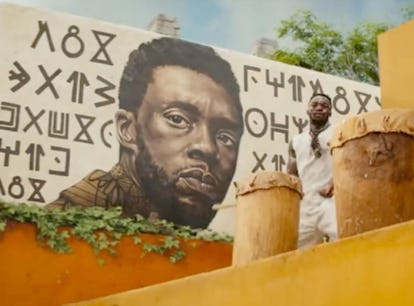 Twitter Is Obsessed With This One Shot From The Wakanda Forever Trailer
Marvel Studios
When Chadwick Boseman passed away in August 2020, it was a shock to fans everywhere. Of course, it was also a blow to the Marvel Cinematic Universe. Boseman had kept his cancer diagnosis private; not even the screenwriter and director of Black Panther, Ryan Coogler, knew about it. Therefore, he had to start his script for Black Panther's sequel from scratch upon Boseman's death. But these details about Black Panther: Wakanda Forever suggest the series has found a way forward.
The average comics fan might not understand why Boseman's death would be a big deal to Marvel. Superhero films change lead actors the way most characters change outfits. But Boseman's performance was groundbreaking, and his character, King T'Challa, was closely identified to him. Moreover, his passing's tragic and sudden nature made it a pair of shoes no Black actor would want to step into. Whoever took the role next would be measured against Boseman's performance and would be found lacking simply for not being Boseman. Marvel could eventually recast the character, but not right away.
But the show would have to go on. And from all the details from Marvel's debut of the trailer, it seems Coogler has found a way to make it work. Here's everything to know about Black Panther: Wakanda Forever.
The first Black Panther movie is streaming on Disney+.
This article was originally published on