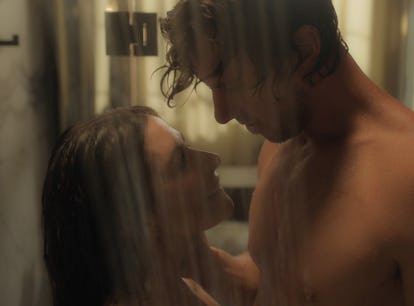 Sex/Life Got Canceled Right After Its Star Called Out Its "Gimmicky" Second Season
There won't be a Season 3, and that might be for the best.
Netflix
It's time for Sex/Life to hit the showers. On Friday, April 7, Netflix announced that its steamy romantic drama would not be returning for a third season, after the second season's finale wrapped up the show's central story. In an interesting bit of timing, the cancelation happened just a couple days after star Sarah Shahi expressed her disappointment in what is now the series' final season, calling it "gimmicky" and confessing she had an issue with her character's storyline.
Netflix not picking up a third season for Sex/Life was a surprise, but not the biggest shock. The Season 2 finale seemed to be a natural end for the story, with [spoiler alert] Billie and Brad finally committing to one another by getting married. The announcement also came shortly after Shahi spoke candidly about her issues with the show's second season. On the April 4 episode of the Not Skinny But Not Fat podcast, Shahi shared that filming Season 2 did not feel the same as making the first season. "I definitely did not have the support that I did in the first season from the people involved in the show. It became a much different thing for me — and I'm not afraid to say that," Shahi said.
"I'm not always going to get along or agree with a filmmaker. I'm not always going to like what I have to do or say. But that's my job, to make it believable," Shahi said. She went on to admit that she "struggled with the material" for the second season, saying that the script had "more moments that felt very gimmicky."
In particular, Shahi was upset that Billie's love interest Brad, played by her IRL boyfriend Adam Demos, was noticeably absent from the bulk of the season. "I really liked our stories and I like working with him," Shahi said. "He was a brilliant scene partner. [In Season 2,] I was working so much and he was working so little. He's, like, in 60 seconds of the entire thing. I never saw him."
After explaining all her issues with the direction Season 2 took, Shahi realized there may be some blowback. "I'm never going to work for Netflix again now after saying all this," Shahi said. "But I can't lie."