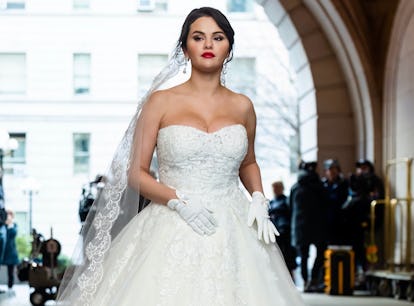 So, Selena Gomez Totally Played All Of Us With Those Wedding Dress Pics
Gotham/GC Images/Getty Images
Selena Gomez has made it very clear that she's enjoying her single era right now, but that didn't stop her from living out a bridal fantasy in a full wedding dress earlier this year. Back in March, photos of Gomez running around New York in a wedding gown went viral, with fans convinced that her character Mabel would get married in Season 3 of Only Murders in the Building. But of course, the twist-filled murder mystery show was one step ahead of everyone.
Spoiler alert: This post discusses some details up to and throughout Episode 9 of Only Murders in the Building Season 3. The penultimate episode of the season, which aired on Sept. 26, finally revealed why Gomez was filming in a wedding dress. Turns out, Mabel wasn't actually getting married at all — she simply put on the gown (which Charles had for his ex Joy, before their wedding was called off) as a means to bypass traffic and make it to the courtroom before Loretta's sentencing.
Yeah, it definitely wasn't the romantic moment fans were envisioning when the paparazzi photos first leaked. And that's exactly what showrunner John Hoffman wanted. He told TheWrap that he had anticipated on photos of Gomez in the wedding dress coming out as a way to tease Only Murders fans.
"It all sort of unfolded like, 'Whoa, that's going to be a day and the paparazzi are going to get ahead of it,'" Hoffman said. "So we had to come to terms with [that] and thought 'Well… here's a big clue as to where we're going in this season.' That felt OK to me because one of the discussions that we have in the writers room is 'Go home tonight. Think about what trailer moments you want to see this season…' and one of the moments was Selena Gomez in a wedding dress. And I immediately thought that's an exciting image."
Not only did Hoffman plan on the paparazzi swarming to Gomez in the dress, he was thrilled when the shots blew up online, even if it did mean cheekily misleading the fandom.
"God love those paparazzi on that day because they took some stunners of her," Hoffman said. "I thought 'Well, that's a gift to get that out to the world and have people looking and sharing that picture.'"
While OMITB Season 3 may not be ending with a wedding, there's still hope for Mabel to get a romantic finale. She's been getting closer and closer with the hot but unfortunately-named documentarian Tobert all season long.
Has Mabel finally found the one, or has Tobert secretly been a murderer all along? All will be revealed when the Only Murders in the Building Season 3 finale airs Oct. 3 on Hulu.