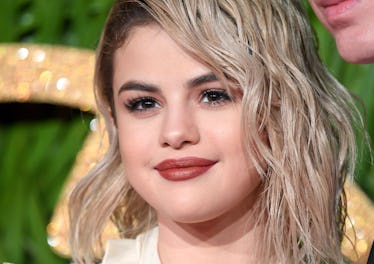 Selena Gomez Is The Maid Of Honor In Her Cousin's Wedding & Bought Her A Gorgeous Dress
I've always assumed that Selena Gomez is a stellar friend and now I have proof. Gomez's cousin (and best friend) Priscilla DeLeon's getting married, and the singer bought her relative a dream wedding dress to wear down the aisle. Even cuter, Gomez surprised DeLeon with it right before Christmas — talk about an amazing present.
Back in March 2016, nearly two years ago, DeLeon got engaged to her partner Jay Cosme. There's even a video of the proposal: DeLeon and Cosme exited an elevator into a room full of cheering family and friends. She looked overwhelmed with emotion as he got down on one knee to ask her to marry him. He proposed with a stunning square diamond ring with two halos set on a pavé band.
Gomez reportedly helped Cosme pop the question by creating an gorgeous space for the couple to celebrate their special moment: When Cosme proposed, Gomez made sure that he and DeLeon were surrounded by white rose petals. In turn, DeLeon named Gomez her maid of honor. On Instagram, DeLeon wrote, "When your maid of honor plans your engagement you get exactly what you dreamed of."
This isn't the first time DeLeon has given her famous cousin a special honor. Gomez is also the godmother to DeLeon and Cosme's adorable toddler son, Aiden.
It appears as if DeLeon has had wedding dresses on the brain since at least this summer. Back in July, she asked her Instagram followers, "Who is your favorite wedding dress designer?" Elie Saab, Vera Wang, Zuhair Murad, and Pnina Tornai were among the most common suggestions in the comment section. (If that last name sounds familiar, it's probably because Pnina Tornai frequently appears on TLC's Say Yes to the Dress. She's known for ultra-sexy, glamorous wedding gowns that often incorporate sheer panels and glitzy embellishments.)
And although Gomez didn't chime in on that post, she clearly knew that her cousin was looking for something special to wear on her wedding day.
While the "Wolves" singer was at home in Texas to visit family for Christmas, she also went to DeLeon's bridal shower, E! News reports, and went shopping with DeLeon and friends for something new — a wedding dress. (You know, something old, something new, something borrowed, something blue?) While at the bridal salon, the crew toasted the occasion with glasses of bubbly.
On Instagram, DeLeon shared a video with an old-timey filter of herself holding up a white and gold sign that says, "I SAID YES TO THE DRESS" and hugging her cousin. She captioned the video, "When your maid of honor makes your dream dress a reality and surprises you with it."
While actual photos of the dream dress are still under wraps, and we don't know exactly which store the women visited, there's no doubt that Gomez helped DeLeon purchase something spectacular. Between Gomez's knack for fashion (she's served as a rep for both Coach and Louis Vuitton, remember?) and her close relationship with her cousin, she was bound to help DeLeon wind up with the perfect dress.
Of course, this is just about the cutest thing that could possibly happen, and fans were really here for it! Some tweeted about how Gomez is basically the GOAT, setting a pretty high bar for maids of honor everywhere.
After the shopping trip, Gomez, DeLeon, and the rest of the group went to Manny's Uptown Tex Mex restaurant for dinner and drinks, E! News reports.
Shopping, drinks, Tex-Mex, and Selena effing Gomez? Damn, girl. Where's my invitation to this bridal party? I want in — I'll bring the something blue.