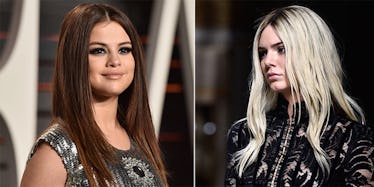 Selena Gomez Apparently Revealed Kendall Jenner Is Seeing Someone
Getty Images
When we accidentally blab a pal's secret in the real world, it's not the biggest deal — usually, we're just telling another friend.
But in Hollywood, the stakes are much higher.
See, during an interview with Roman Kemp on radio station Capital FM, Selena Gomez casually revealed her pal, Kendall Jenner, is seeing someone. With one itty-bitty slip of the tongue, Gomez spilled her friend's low-key romance to the entire world -- literally.
Nice going, Sel.
It happened when Kemp asked if he could join Taylor Swift's famous #squad, of which Gomez is a lifetime member. The 23-year-old replied,
Maybe not for the squad, necessarily, but boyfriend material is always good…[but] none of them are single, just so you know.
The "Hands To Myself" singer elaborated,
Taylor is not single, Gigi is not single, neither is Kendall…
While Selena stopped short of saying who, exactly, Kendall is shacking up with, we can pretty much assume it's Harry Styles. Remember the pair's romantic rendezvous over the winter holidays? They sure seemed to be enjoying themselves.
Plus, Kendall's sisters approve of the former 1D member, which is a must in the Kardashian-Jenner family (sorry, Rob).
All things considered, it sounds like a match made in the (super)stars.
Citations: Kendall Jenner Is Not Single, According to Selena Gomez (Cosmopolitan)