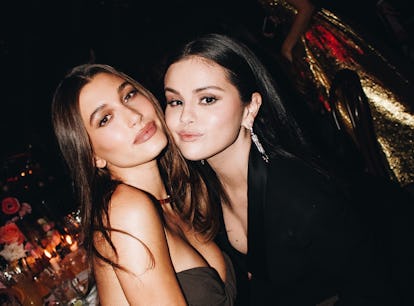 Selena Gomez & Hailey Bieber Finally Cleared The Air
Tyrell Hampton
It looks like the Selena Gomez and Hailey Bieber drama might finally be coming to an end. On March 24, the Only Murders In The Building actor and the Rhode founder took to their Instagram Stories to address their rumored feud, and it sounds like they're both over it (and are hoping the rest of the world will follow suit). In a surprising turn of events, Gomez defended Bieber on Instagram, and Bieber thanked her for it. Here's what they said.
"Hailey Bieber reached out to me and let me know that she has been receiving death threats and such hateful negativity," Gomez wrote. "This isn't what I stand for. No one should have to experience hate or bullying. I've always advocated for kindness and really want this all to stop."
Bieber followed up with her own statement. "I want to thank Selena for speaking out, as her and I have been discussing the last few weeks how to move past this ongoing narrative ... The last few weeks have been very hard for everyone involved and millions of people are seeing so much hate around this which is extremely harmful," she wrote. "Things can always be taken out of context ... We all need to be more thoughtful about what we post and what we say, including myself." Gomez and Bieber follow each other on Instagram now, too, seemingly putting an end to any rumors that there's beef between them.
This isn't the first time they've have spoken out against the hate. Gomez has previously spoken about kindness, though this is the first time she's mentioned Bieber specifically. Back on March 5, Gomez had a similar message for fans on TikTok. In a since-deleted comment, shewrote to her supporters, "Thank you and love you all so much. I'm deeply grateful for each and every one of you humans. You make me unbelievably happy. Please, please be kinder and consider others mental health. My heart has been heavy and I only want good for everyone. All my love."
A little refresher: Gomez and Bieber's latest bout of rumored beef started in February, when Bieber posted a since-deleted video of her lip-syncing the viral sound, "I'm not saying she deserved it, but God's timing is always right." Fans thought the message was directed at Gomez, who had recently faced body-shaming comments on social media. Though Bieber insisted it was "not directed at anyone," and Gomez responded by saying "be nice to everyone," that was only the start.
Later that month, Gomez posted about accidentally over-laminating her eyebrows. That same day, Kylie Jenner (one of Bieber's closest friends) shared a selfie on IG, showcasing her eyebrows, with the caption, "this was an accident???" Jenner followed up with another IG Story, showing her on FaceTime with Bieber. Jenner and Gomez both attempted to quash the beef, calling it "reaching," but that didn't stop the Selenators from retaliating. Both Jenner and Bieber lost a million followers.
Although they've publicly moved past their rumored feud, that doesn't mean the online saga is over. Already, TikTokers are questioning why Bieber reached out to Gomez in the first place — and why Justin Bieber has stayed quiet.
This article was originally published on