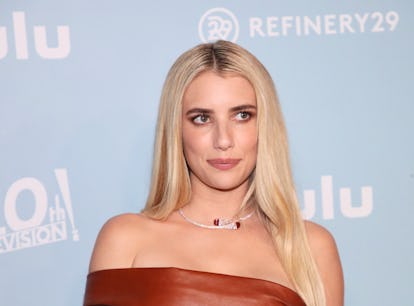 Emma Roberts' New Hulu Show About A Quickie Marriage Sounds Deliciously Chaotic
Robin L Marshall/Getty Images Entertainment/Getty Images
If you're hungry for more messy love stories like Tell Me Lies, then you're in luck. Emma Roberts and Tom Ellis will bring the romance and the drama in a new series from Tell Me Lies creator Meaghan Oppenheimer. Second Wife will star Roberts and Ellis as two recently single people who fall way too hard for one another shortly after their respective breakups. If you love streaming a good, dramatic rom-com, then be on the lookout for Second Wife, because it will land on Hulu soon.
Hulu officially picked up the new series on Jan. 13, via Deadline, about a month and a half after the streamer renewed Oppenheimer's show Tell Me Lies for a second season. It sounds like Second Wife will have all the steamy romantic scandal of Tell Me Lies, but with an international and matrimonial twist. The new show will follow Sasha (Roberts) on her move to London after a bad breakup made her want to say goodbye to to life in New York for good. In the new city, Sasha meets and quickly falls for a recently divorced father named Jacob (Ellis). In the heat of the moment, Sasha and Jacob decide to instantly get married, but that impulsive choice comes back to haunt them once they begin to realize there's a lot they don't know about one another.
Second Wife is one of the many exciting projects Roberts is working on in 2023. She'll also star in the rom-com Maybe I Do, the fish-out-of-water comedy Space Cadet, and she's entering her Marvel era in the star-studded Madame Web.
While you wait to stream all the romantic intrigue, here are all the details about Second Wife.
Second Wife Cast
Upon its announcement, Roberts and Ellis are the only actors attached to Second Wife. From the show's description, it sounds like the two main characters' exes and Jacob's child will also be big roles in the series.
Second Wife Predicted Release Date
Since the show was ordered at the beginning of 2023, hopefully it will be able to complete production and start streaming on Hulu before the year ends.
Second Wife Predicted Trailer
Look for the first footage of Second Wife to arrive later in 2023.