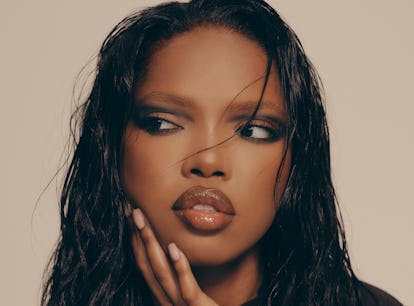 Ryan Destiny Isn't Just Making Music For TikTok
With smash singles and a growing fanbase, the R&B star is carefully planning her debut EP.
Micaiah Carter
I've always thought the word special was overused until I spoke with Ryan Destiny, the Justin Bieber-approved actor and singer-songwriter who describes her creative work as "special" so sincerely, so headstrong, that you can tell she really means it. "I love feeling respected," Destiny tells Elite Daily. "I don't like being in rooms or situations where someone wants to control me." With confidence like that, who wouldn't bow down?
If you've slept on Destiny, no biggie. The 28-year-old treads the same sonic waters as other silky-saucy R&B girlies like Normani and Coco Jones, and she's also known for her work in Star and Grown-ish. Impressively, she booked a lead role in the forthcoming Claressa "T-Rex" Shields biopic, Flint Strong, what she calls "her greatest challenge so far." Destiny truly is that girl, and she's on a roll. On the heels of her two spicy singles, "How Many" and "Lie Like That," Destiny now has plans to release her long-awaited debut EP. But there's just one elephant in the room: When?
Whether she's writing from her own POV ("Do You") or that of her hella-unbothered alter ego ("Lie Like That"), ya girl has so far delivered honest love songs that contain sharply playful lyricism with the kind of honesty that'll make you unironically go "Dang, she's so real for this." It's for this reason — her attention to detail — that she's not in a rush to drop just anything.
"I feel like every time I do try to rush things, it feels a bit forced and it doesn't come out exactly how I feel like it should have — and because things do live on the Internet forever, pretty much, you do want to make sure that it's something that you're really proud of," Destiny says. "So naturally, I am going to take my time with [my music]. And it is hard, because of the times that we live in now, there's so much content constantly [being put out]. So that can get in your head easily as a creator feeling like you're not doing enough."
Destiny refuses to treat her art as a cog in a content-creation wheel, and the story behind her latest single illustrates the R&B princess's mentality perfectly. "I recorded both of those songs, I want to say … in 2020 and at the end of 2019," Destiny says. "I knew 'Lie Like That' was special to me, so I sort of wanted to take time with putting it out and make sure everything was right."
Destiny explains one reason she drops less music than others is she's largely doing this ish — wrangling resources and funding projects with her personal coins, which "makes things go at a different pace" — on her own, as in *without* major-label budgets. (She's currently signed to November Yellow, which represents a small-yet-curated roster of rising R&B and rap acts.)
An example of how she makes lemonade out of lemons: the music video for "How Many," which has amassed more than 650,000 views on YouTube alone. Despite setbacks like budget restrictions and her own internal war with perfectionism — issues she's been super real about on TikTok — Destiny blessed the culture with a visual packed with dynamic choreo and a fly, Y2K pop star-esque blue leather ensemble.
For Destiny, the stakes for the "How Many" shoot were especially high since she did the dang thing solo: no backup dancers, no opposite. "I knew that I wanted to dance from start to finish, which can just be intimidating in general," Destiny says of the video, which was choreographed by Sean Bankhead, the mastermind behind iconic Cardi B, Normani, and Doja Cat projects. "Just being in this box by yourself and having it all weigh on your shoulders — it's just a little scary. But Sean believed in it. He believed in me, thank God. And I think we came up with something really special. It is a very simple video, and I kind of went into it knowing that — and loving that aspect of it, how minimal it was, and just sort of letting it all speak for itself."
Destiny's genuine admiration of her creative peers (FLO, Tems) and iconic forerunners (Beyoncé, SZA) is an essential part of her refreshingly careful approach to her craft. Bey waited six years after Lemonade to drop Renaissance, while a five-year gap sits between SZA's Ctrl and SOS, yet both 2022 LPs have broken chart records and received acclaim from critics and fans alike. "A lot of artists I look up to are kind of notorious for also taking their time," she says. "And I think that sort of makes me be a little more at ease — and [I try] to recognize and understand that everyone's path is different." Indeed, patience pays off.
So when, exactly, is Destiny finally going to release her own debut project? "That's been the goal of mine for the past four years, honestly," Destiny says. "When I was on Star, I was in a specific deal that didn't allow me to put out music. So as soon as that was up, things just sort of started up for me creatively. Again, of course, the pandemic hit — that did something. So it's just been a lot of different things that have happened in the meantime. But that's always been the goal; an EP is supposed to finally come out this year."
From said EP, Destiny assures you should expect what you love from her already — but with some genre-bending twists. "I'm just in a very open space," she says. "R&B will always be the base of what I do, but I love so many genres. So I love the idea of incorporating other sounds and other things into my sound."
Abandoning overthinking in exchange for full creative liberation, Destiny notes her new material is more edgy, sensual, and sometimes, vulnerable. And her next priority? To create "things that feel fun in the way that it could be for women, specifically."
Songs for the girlies? Sign me up — even if it's just a pre-save. "I mean, I've already put out two songs within two months, which is very unheard of for me," she laughs. Two days, two months… however long, Destiny's worth the wait.