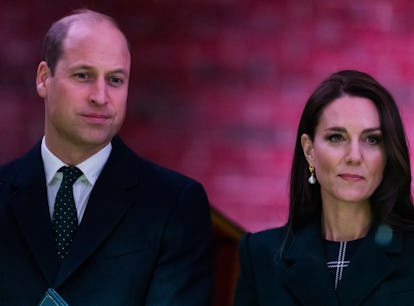 Apparently, The Royal Family Is Enraged By The Harry & Meghan Doc
We all saw that one coming.
Samir Hussein/WireImage/Getty Images
It sounds like things are more dour than ever in Buckingham Palace. Following Netflix's release of Harry & Meghan on Dec. 8 and Dec. 15, the royal family's reaction is seemingly... not great. Though the family reportedly didn't tune into the docuseries, it sounds like they're still pretty pissed about the whole thing. On Dec 15, royal expert Christopher Andersen told Us Weekly about the palace's reported "rage."
"Rage. I mean, look again, Harry talks about — almost matter-of-factly talks about — how his brother was shouting and screaming at him during this meeting [at Sandringham]. Terror and terrorizing, I think was the phrase used," Andersen told Us. (Harry's exact quote from the doc was: "It was terrifying to have my brother scream and shout at me, and my father say things that just simply weren't true, and my grandmother quietly sit there, and sort of take it all in.")
Andersen continued, "William has a tremendous temper. Charles has a tremendous temper. It's just not gonna be a pretty sight there." Despite how upset the family may be, per a Dec. 11 report by The Sunday Times, Will "instructed friends not to retaliate," and a source claimed he has "been very clear" about "not want[ing them to fuel] the conflict."
Another friend told the outlet about his conversation with Will. "I reminded him to keep his rifle pointed at the target and not to be distracted, even though it's all f*cking tedious in every sense of the word," he said. (Glad to see they're keeping things in perspective.)
All in all, it sounds like the royals are keeping to their tried-and-true PR strategy of "no comment." On Dec. 8, a royal source told Vanity Fair, "There has been a lot of hype but there is not going to be a comment at every twist and turn... It's business as usual and keep calm and carry on." According to the outlet, even though Will and Kate decided not to watch Harry & Meghan, royal aides and lawyers did tune in.
Already, there's been controversy over whether the docuseries misled viewers. At the start of Harry & Meghan, the show claims that the palace refused to comment on the series. However, according to The Telegraph, royal sources have said that the family was never given the opportunity to comment. Specifically, according to Kensington Palace, a third party production company "purporting" to be connected to the docuseries reached out, but the palace could not verify that the company was actually affiliated with the show.
One royal expert, Jonathan Sacerdoti, told Us Weekly that the royals were (uncharacteristically) unbothered about the first three episodes. "I don't think there was very much in there that was particularly new or that will have worried them too much. It was repetition of the same old gripes, repetition of the same sort of stuff [they've previously claimed]," he told the outlet. "So, I think they may be breathing a sigh of relief on that front, but, you know, there are three more of these [episodes] to come." (The new episodes have since been released.)
This relaxed approach is a far cry from how the palace was reportedly feeling ahead of Volume 1's release. According to royal expert Christopher Andersen, the royal family was swept up in preparing for Harry & Meghan to drop. Speaking to Us Weekly on Dec. 6, Anderson claimed that the royal family was in "combat mode" as they prepared for potential fallout from the show, and on Dec. 7, a source opened up about Prince William and Kate Middleton's emotional reaction.
"I think [the royals are] still holding their breaths and waiting for the other shoe to drop," Anderson told Us. Apparently, they were not too pleased with the trailer, which compared Meghan's story to Princess Diana's and accused the palace of leaking certain stories while protecting others. "The sense of betrayal has shifted over to genuine combat mode, because obviously this is a war between the two," Andersen said.
"William and Kate [are] all about preserving the monarchy and duty and all of that. And the release of these trailers, at the moment … [the Cambridges] were trying to fly the [British] flag as it were in the U.S. — and to have them eclipsed and overshadowed by that... I'm sure they were stunned and shocked, even if they didn't show it," Anderson explained. The first Harry & Meghan trailer was released on Dec. 1, one day after Will and Kate's arrival in Boston for the Earthshot Prize. He added of William, "I'm sure he is very, very angry at his brother and cannot understand what he's doing."
On Dec. 8, another source added, "Kate and William were left flummoxed when the Netflix trailer aired during their trip to Boston. It's put a huge amount of strain on relationships that are already hanging by a thread."
King Charles was also reportedly disappointed by the trailer. "Charles has a huge temper, has been unleashed many times behind the scenes," Andersen explained. "And I'm sure he's on the verge of having a meltdown."
This article was originally published on