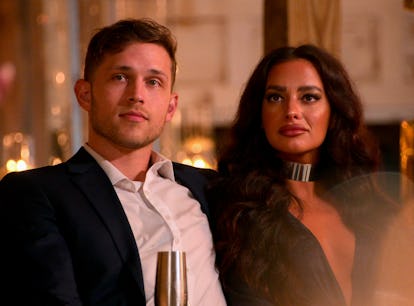 Roxanne & Antonio Reveal How They Decided On Their Ultimatum Ending
They really went back and forth a lot.
Netflix
Spoiler alert: This post discusses events from The Ultimatum Season 2 finale.
All of the couples on Season 2 of The Ultimatum were on shaky ground when it came to marriage, but Roxanne and Antonio took the cake. From the very beginning, she made it clear that she didn't believe in marriage at all. Beyond that, she also didn't see Antonio as an adequate life partner, criticizing his lack of career ambition in comparison to hers. But despite their issues, Roxanne surprisingly said yes to Antonio's proposal in the end. The couple is still engaged after the show, and now they are opening up to Elite Daily about why they decided to give marriage a shot, even if it's something viewers didn't see coming for them.
Both Roxanne and Antonio agree that the biggest reason they went through with the engagement was due to changes Roxanne had made in herself during The Ultimatum. Initially, the entrepreneur was laser-focused on career and finances, which were areas Antonio lacked. But over time, she realized that she had to shift her mindset.
"It really just had to do with self-reflection. It was me changing," Roxanne says. "There was no way he could have changed his career or anything at that point in time. There was nothing he could really do to make me say, 'Now he's the one.' It was more me having to tell myself, 'He is the one. I do want to be with him, because I'm changing.'"
After the show, Antonio announced a career change on Instagram, revealing he's in the process of franchising his own car detailing shop.
"Now he has changed, I think, because I've chosen him," Roxanne continues. "It kind of all fits together weirdly. Love's weird."
Antonio agrees that Roxanne's personal growth is what made their engagement possible. "It was her letting go and being OK with not being in control of everything," he says. "She gets anxious about things she can't control, and I think she's finally gotten to the point where she trusts me to just kind of be the leader in the relationship."