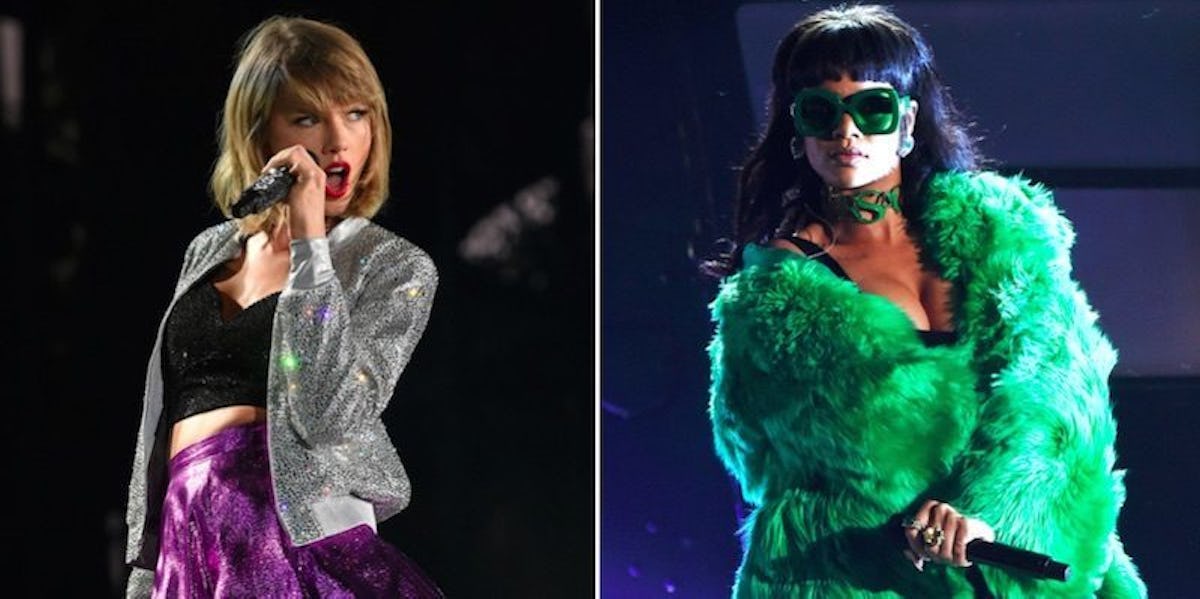 Rihanna Explains Why She Won't Perform On Taylor Swift's Concert Tour
Ghetty Images
So far, on her 1989 tour, Taylor Swift had everyone from Wiz Khalifa to "Friends" star Lisa Kudrow on stage, proving Swift's squad is the only squad that matters in Hollywood.
But, there's one celeb who won't be singing with Taylor, no matter how dope the potential duet would be, and that celeb is Rihanna.
In a recent interview with NME magazine, Rihanna explained her hesitance to join Taylor's long list of ex-lovers famous friends.
The Barbados-born songstress said,
I don't think I would [join Taylor on stage]. I just don't think it makes sense. I don't think our brands are the same, I don't think they match [and] I don't think our audiences are the same. In my mind, she's a role model; I'm completely not.
While that's a very polite — and very PC — way of putting it, I can't help but feel RiRi's friendship with Katy Perry (a known Swift nemesis) has something to do with her resistance to making an appearance with Swift on stage.
Then again, Taylor seems to be really good at patching up old feuds (and converting her haters into lovers), so I'll still hold onto hope.
In the words of J Biebs, never say never, RiRi.
Citations: Rihanna on Why She Won't Join Taylor Swift on Stage: "She's a Role Model" (Cosmopolitan), Rihanna on Taylor Swift: 'She's a role model, I'm completely not' (NME)