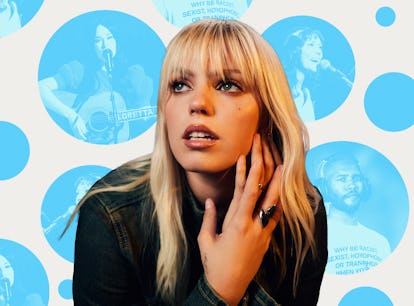 How Frank Ocean & Kacey Musgraves Inspired Reneé Rapp's Sound
"Not to be dramatic, but I was having a spiritual moment. I remember thinking: 'This is the greatest songwriting ever.'"
Elite Daily; Getty Images; Courtesy of Spotify
In Elite Daily's series Early Influences, musicians reflect on the songs and albums that left a lasting impression on them in their formative teen years. Here, singer-songwriter-actor Reneé Rapp gushes about her new Snow Angel album, her recent induction into Spotify's Radar program, and how Frank Ocean is the unofficial sonic pastor in her life.
Even though Reneé Rapp has built a hardcore fanbase with her first EP Everything to Everyone, she isn't fully convinced of her pop star status. "I want to be perceived as a pop star so bad. I don't know if I feel like that yet," Rapp tells Elite Daily. But the skepticism in her voice fades once she talks about her debut album Snow Angel, a nearly 40-minute reminder that Rapp isn't afraid to be an open book about her emotions, even if they are a bit jarring. Take "Talk Too Much," her infectious opening track that was inspired by a dream she had of murdering her current girlfriend.
Snow Angel isn't just a glimpse into Rapp's sleep-deprived nightmares. The wintry album, released Aug. 18, sees the singer confronting the most intimate moments in her life — surviving a hard breakup, finding love again, and going through the motions as a 23-year-old woman — with vocal ease.
"When I'm writing music, I try my best to say exactly how I feel. And sometimes, that's not sustainable. There were several moments when I'd walk into a session and think 'Whoa, I'm about to explain the worst things that have ever happened to me,'" Rapp says with soft laughter. "But that's why this album is so special to me. These songs leave no room for anyone to take my power, strip me of vulnerability, or make me feel like sh*t for being too emotional."
That unflinching honesty is what drew fans and Spotify to her music. This month, Rapp was the latest singer to join the digital music service's Radar program, a global platform that commits to supporting emerging artists as they ascend to stardom. This recognition tugs at Rapp's heartstrings, as she's had a close connection to the platform since the beginning of her music career.
"Spotify has been extremely supportive of me since my first EP. I'm still so appreciative of the love they've shown me, because the music industry is an incredibly competitive space and this is all I've ever wanted to do," Rapp says, the delight in her voice about as vibrant as her signature blond tresses. "This recognition is a big part of my growth as an artist. In a way, it feels like a perfect familial next step. I feel very lucky."
This nod is impressive, considering Rapp hard launched her music career last year. However, her foray into music wasn't an overnight choice. Since a young age, the North Carolina-born star was practically raised in the world of musical theater. She fed off her stately strengths (she's a triple act: a singer, actor, and dancer), and went from winning a Jimmy Award — a major high school theater competition — at 18 years old to later snagging a role as Regina George in Mean Girls: The Musical on Broadway.
This opened the door to her starring character as Leighton Murray in HBO Max's The Sex Lives of College Girls, which she's currently retiring to focus on her most important role: to become the pop star she's unsure she is yet.
Below, Rapp chats about three artists who've championed her love of music and influenced her as an artist.
Frank Ocean
Like many fans, Rapp fell head over heels for Frank Ocean after downloading his 2011 Nostalgia, Ultra LP — which he released on Tumblr for free after his relationship with then-label Island Def Jam went sour — on Spinrilla (RIP). Specifically, her first taste of his music was the LP's ninth track, "There Will Be Tears."
"I remember being in the airport with my family. I don't remember how young I was, but I was listening to that track while we were waiting at the gate," Rapp recalls. "I was so f*cking dramatic. I started sobbing, absolutely sobbing with my little earbuds in. Not to be dramatic, but I was having a spiritual moment. I remember thinking: 'This is the greatest songwriting ever.' He's just unreal."
Interestingly, Ocean once again became her spiritual aid when she saw him perform at Coachella this year. "I have never understood stan culture until I saw [Frank] live this year," Rapp says, pausing for a brief moment. She then sighed, almost as if she was reliving the polarizing April show. "That night felt like a religious moment. I went to the show with one of my best friends (who's also religious), and she agreed with me. I'm not saying Frank is a pastor, but his songs have certain lines that hit a little different. His level of artistry is so unmatched. He's almost like a freak of nature — just perfect and beautifully tormented."
Kacey Musgraves
Kacey Musgraves unintentionally became Rapp's saving grace of country music. "I'm from the South, so I detested country music for what feels like forever. And not just the sound of [the genre], but how f*cking hateful the culture is," she says. "Growing up, the culture surrounding that music never felt safe to me, almost in a 'the kids who listen to country music are the kids you need to watch out for whenever you bring your friends around' sort of vibe. But that changed once I found Kacey Musgraves."
Rapp revealed she was introduced to Musgraves, whose pop-leaning country tunes have made her an artist to watch, a little over a year ago. At the time, she was going through the heartbreak she briefly touches upon on Snow Angel, and Musgraves' "Camera Roll" spoke to her. "Girl, that song made me obsessed with her. For the life of me, I couldn't comprehend how [a singer] could deliver a perfect song like that? She has such an incredible tone, her pen game is unreal, and she's so unapologetically herself, which is so amazing to me considering she's a country star."
"She came out with a song called 'Follow Your Arrow' a few years ago, and she has lines like 'Kiss girls, kiss boys, it doesn't matter.' Like, c'mon now. She's a great straight woman, you know? Just five points for straight women everywhere," she says with lighthearted laughter.
Karen Carpenter
Rapp became privy to Karen Carpenter's diaphragm-deep vocals thanks to her dad. "My dad always talked about Karen Carpenter like she's a holy deity," she says with lighthearted laughter. "He always held her to a high regard, and I see why he did. As I've gotten older, I've realized how much of an incredible songwriter she is."
Rapp recognizes the lead front woman of The Carpenters' talent is a full circle moment back to Frank Ocean. "Their song '(They Long to Be) Close to You' was sampled in a talk box performance Stevie Wonder did in the '70s, and that was used in Frank's 'Close to You' on Blonde, which is my favorite album of all time. That's so f*cking cool to me," Rapp says.
Rapp's admiration for Carpenter also goes beyond her songwriting skills. As she learned more about her, she found out the late singer struggled with an eating disorder before she died. "That really stuck with me because I've had an eating disorder for as long as I can remember, and my dad's aware of that," Rapp says. The singer has been open about her eating disorder, which began during her time on Mean Girls.
Similar to how Rapp bared her soul on Snow Angel, she's looking to leave her heart on the stage on her upcoming tour. The slate of shows, which kicks off on Sept. 15, is nearly sold out, a feat the singer is familiar with. Her tour for her 2022 EP was also a sold-out affair, and to hit that milestone again has Rapp ready to belt her new album to a crowd.
"I really hope people find these shows impressive," Rapp says. "I'm doing my best to hopefully deliver that, because I owe it to the people that are rooting for me."