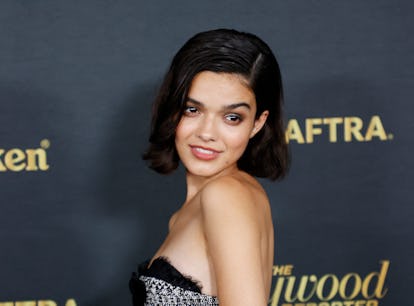 Rachel Zegler Is The Latest Celeb To Call Out The Gossip Girl Reboot
GG certainly knows how to make celebs tick.
MICHAEL TRAN/AFP/Getty Images
Gossip Girl's ability to get the celebrities riled up is as strong as ever in Season 2. The catty series has always been full of pop culture quips, but back in 2007 celebs weren't really logging onto social media to react to getting a GG callout. The HBO Max reboot is a whole different story, though. The new show managed to stir things up with a few superstars in Season 1, and the latest Season 2 episode name-dropped another star who had something to say about the moment. Rachel Zegler tweeted out her response to a Gossip Girl joke about her.
The callout came at the start of Season 2, Episode 8, when Luna La (Zión Moreno) received an opportunity to style Julia Fox for the Tribeca Film Festival. While looking up Fox's co-stars, a disheartened Luna whispered, "This can't be right." "Oh, is it Rachel Zegler?" her friend Monet (Savannah Lee Smith) responded. Actually, Luna was surprised because her mother was starring in the movie but hadn't told her about it.
The quick moment may not have stuck out to most viewers, but Zegler herself issued a correction. "*whispers* it's zeh-glurr," she tweeted on the episode's airdate, correcting Smith's pronunciation of her last name.
To make it extra clear she was referring to Gossip Girl, Zegler followed up that tweet with an infamous Blair Waldorf meme.
Zegler is the latest in a cohort of celebrities who took to social media to respond to the new Gossip Girl reboot over pop culture jokes. In Season 1, Luna joked that Olivia Jade Giannulli gained Instagram followers when her mom, Lori Loughlin, went to jail, which Giannulli denied in a TikTok responding to the line. Jameela Jamil took her barb a bit better, simply tweeting, "Sorry Julien," after an episode in which influencer Julien Calloway's popularity tanked due to Jamil defending her. The most fiery response of all came from Suki Waterhouse, who made it very clear she didn't appreciate the show referring to her as "Suki nobody" in a Season 1 episdode.
Despite all the online chaos, Gossip Girl hasn't slowed down when it comes to using celebs as punching bags — just take that brutal Lea Michele joke from the beginning of Season 2 as proof. Find out who the show targets next when new episodes of Gossip Girl land on HBO Max on Thursdays.