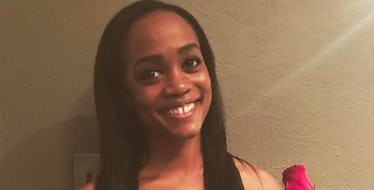 We Found All Of The 'Bachelorette' Contestants On Social Media
Instagram
Today is the day! Season 13 of "The Bachelorette" premieres tonight, Monday, May 22, at 9 pm EST.
Viewers have been waiting for Rachel Lindsay's historic season to air ever since it was announced she would be the Bachelorette during Nick Viall's season of "The Bachelor."
Earlier this year, during the "After The Final Rose" segment of "The Bachelor," we actually got to briefly see a few of Rachel Lindsay's suitors.
Then, just last week, the entire cast list was announced. Judging by their bios, we're going to meet some interesting characters this season.
Of course, everyone knows social media is where we actually get to know people (duh), so I went ahead and rounded up the profiles of all the season 13 "Bachelorette" contestants I could find. You're welcome.
Alex
Anthony
Blake E.
Blake K.
Brady
Bryan
Dean
DeMario
Diggy
Fred
Grant
Iggy
Jack Stone
Jonathan
So, his Instagram is actually private, but this is the self-professed "tickle monster" contestant.
Josiah
Kenny
Lee
Lucas
As a reminder, this is the guy who listed his profession as "Whaboom."
Matt
Mohit
Peter
Will
I'm assuming everyone is already following Rachel Lindsay on social media.
It's also worth pointing out that we already know Rachel Lindsay does in fact find love with one of these guys on season 13. Last week, she revealed,
I am very much so in love and very much so engaged… I am getting my happy ending!
While I'm very excited for Rachel and her "happy ending," I can't help but think about another Bachelor Nation couple who recently very much called it quits.
Ben Higgins and Lauren Bushnell, who got engaged on season 20 of "The Bachelor," released a statement last week, saying,
It is with heavy hearts that we announce our decision to go our separate ways. We feel fortunate for the time we had together, and will remain friends with much love and respect for one another. We wish nothing but the best for each other, and ask for your support and understanding at this time.
Ahhhh, TV love. So full of promise and then just like that it's over. Here's hoping Rachel and whomever she chose last longer than Ben and Lauren.