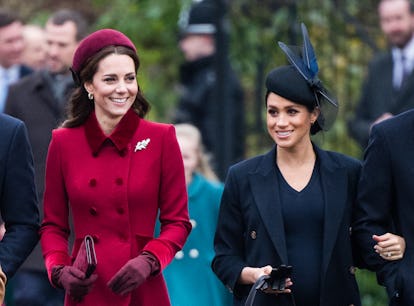 According To Harry, Meghan & Kate *Did* Battle Over Bridesmaids Dresses
A "baby brain" comment also led to their rift.
Pool/Samir Hussein/WireImage/Getty Images
Prince Harry has finally explained what really happened between Meghan Markle and Kate Middleton regarding Princess Charlotte's bridesmaid dress. According to Page Six, in his new memoir Spare, which dropped on Jan. 10, the Duke of Sussex claimed a heated text exchange between his then-fiancée and sister-in-law ended with Meghan in tears.
Just days before Harry and Meghan's wedding in May 2018, Kate had apparently reached out to Meghan about concerns she had over her daughter's bridesmaid dress. "Charlotte's dress is too big, too long, too baggy," her text alledegly read. "She cried when she tried it on at home."
According to Harry, Meghan texted back, "Right, and I told you the tailor has been standing by since 8 a.m. Here. At KP. Can you take Charlotte to have it altered, as the other mums are doing?"
Instead of getting Charlotte's dress altered as Meghan suggested, Harry claimed Kate demanded that "all the dresses be remade." Kate allegedly also had "problems with the way Meg was planning her wedding." Harry said Meghan was already under a lot of stress at the time due to the drama surrounding her father, Thomas Markle, and Kate pressing her about Charlotte's dress didn't help. In fact, Meghan was so overwhelmed that Harry found her "sobbing" on the floor one day.
In a March 2021 tell-all interview with Oprah, Meghan revealed that she and Kate eventually made amends. "She brought me flowers and a note apologizing, and she did what I would do if I knew that I hurt someone, to just take accountability for it," Meghan said, adding that she had "forgiven" Kate for what happened.
Even though it's been years since the whole ordeal, Harry told Michael Strahan in a Jan. 9 interview on Good Morning America that he decided to include the bridesmaids dress drama in his book "for historical reference."
"The truth needs to be there and it needs to be from me," he said.
According to CNN, Harry also recalled another disagreement between Meghan and Kate leading up to the couple's wedding. Apparently, after Kate had given birth to her son Prince Louis in April 2018, Meghan told Kate she had "baby brain" due to her hormones. Her comment apparently offended Kate, who "demanded an apology" from Meghan. "We're not close enough for you to talk about my hormones!" Kate supposedly told her sister-in-law.
This led Prince William to confront Meghan. "It's not what's done here in Britain," he allegedly told Meghan while pointing his finger. "Kindly take your finger out of my face," Meghan replied back.
"Meg said she'd never intentionally do anything to hurt Kate, and if she ever did, she asked Kate to please just let her know so it wouldn't happen again," Harry wrote.
So far, Buckingham Palace and Kensington Palace have not commented on the allegations in Spare.