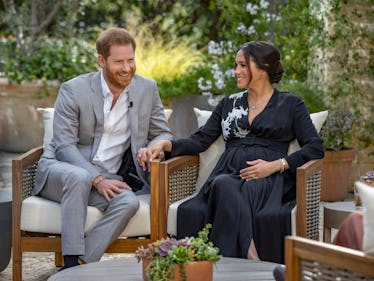 Harry & Meghan's Body Language During Their Oprah Interview Was Emotional & Unified
Fans of Prince Harry and Meghan Markle had high expectations for the couple's sit-down interview with Oprah Winfrey on March 7, and it did not disappoint. During the two-hour special, the Duke and Duchess of Sussex revealed their shocking experiences with the royal family and the institution behind it throughout their time as senior working royals. The truth was hard to hear, but one bright spot was Prince Harry and Meghan Markle's Oprah interview body language. As always, it was strong and supportive — exactly what you'd hope to see from a couple who went through hell together and came out stronger on the other side.
The two remained a united front during the difficult moments of the interview. As viewers learned during the special, Meghan's time as a working royal wasn't easy. She was constantly under attack by the British press and revealed that the "firm," or the institution behind the royal family, promised to protect her from the tabloid fodder that eventually started to deeply impact her mental health. Ultimately, the lack of support and protection from the institution is what led them to step away from their world for good.
Elite Daily spoke to Traci Brown, body language expert and author of Persuasion Point: Body Language and Speech for Influence, and Patti Wood, body language expert and author of SNAP: Making the Most of First Impressions, Body Language, and Charisma , about Harry and Meghan's dynamic during the tell-all. Here's what they saw in the couple's physical interactions.