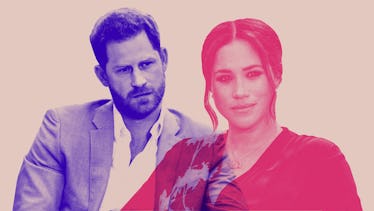 These Surprising Facts From Meghan & Harry's Interview With Oprah Will Blow Your Mind
Handout/Getty Images
Fans weren't sure what to expect from the Sussex's tell-all conversation with Oprah Winfrey, and apparently, the Duke and Duchess weren't sure what to expect, either. At the beginning of the CBS interview (which aired on March 7), Oprah established a few key facts with Meghan Markle for viewers, including the fact that they weren't given questions ahead of time. All she knew was that things were going to get juicy, and I don't know about y'all, but these surprising facts from Meghan Markle and Prince Harry's Oprah interview definitely left me shook.
1. Meghan & Harry Weren't Paid For Their Interview With Oprah.
Before beginning the interview, Oprah established that the Sussexes wouldn't accept payment for the interview.
2. Meghan Never Googled Harry When They Began Dating.
According to Meghan, she knew very little about the royal family (or even Harry himself) when they started dating, and she never looked up information about him online. "I went into it naively because I didn't grow up knowing much about the royal family," she said. "It wasn't part of conversation at home it wasn't something we followed ... I didn't do any research. I've never looked up my husband online."
3. Meghan Met Queen Elizabeth II Unexpectedly & Had To Learn To Curtsy On The Fly.
Rather than having her first meeting with the Queen set up ahead of time, Meghan met Harry's grandmother on a whim — and she had to do her first-ever curtsy in front of her majesty. After Meghan did a "very deep curtsy" for the Queen, she said the meeting was surprisingly laid-back. "We just sat there and we chatted. And it was lovely and easy," she said.
4. Meghan & Harry Got Married 3 Days Before Their Public Wedding.
Three days before tying the knot on May 19, 2018, in St George's Chapel at Windsor Castle, Meghan and Harry had their own private ceremony to exchange vows. "We want our vows to between us," Meghan explained, adding that the ceremony ended up being just "the two of us in our backyard with the Archbishop of Canterbury." She added that the marriage certificate that hangs in her home has the date of the private ceremony.
5. Before The Wedding, Meghan Had A Fight With Kate Middleton That Left Meghan In Tears.
Shortly after Meghan and Harry got married, widespread gossip began circulating that Meghan made Kate cry in the lead-up to the 2019 royal wedding. When asked about the rumors, Meghan told Oprah "the reverse happened" from what was being relayed in the press. "A few days before the wedding, she was upset about something. Yes, the issue was correct about flower girl dresses," she explained. "She made me cry, and it really hurt my feelings." However, she said Kate later apologized and all was forgiven.
6. Meghan Gave Up Her Passport, License, & Keys When She Joined The Royal Family.
Before moving away from her royal duties, Meghan said she felt trapped by the family... sometimes literally. "When I joined that family, that was the last time — until we came here [to North America] — that I saw my passport, my driver's license, my keys," she said. "All that gets turned over. I didn't see any of that anymore."
7. Harry Had Several Conversations With The Queen & His Father Before He & Meghan Stepped Back.
While addressing the claims that he "blindsided" his grandmother with his decision to step back from the royal family, Harry explained that several conversations took place before the decision was made. In fact, Harry claimed he had three conversations with the Queen and two conversations with his father, Prince Charles, "before he stopped taking my calls." Charles eventually asked Harry to put the plan in writing, which Harry did, including specifics like the date they planned to make the announcement.
8. Meghan Received Little Guidance From The Royal Family On How To Behave.
Rather than receiving extensive lessons on etiquette, Meghan said there were several lessons she had to learn herself. "There were certain things you couldn't do, but unlike the movies, there was no class on how to speak, how to cross your legs, how to be royal," she said. Apparently, Meghan didn't even know the British national anthem when she joined the family. "That was me Googling late at night ... we were doing the training behind the scenes because I wanted to make them proud," she added.
9. The Royal Family Cut Off Meghan & Harry Soon After They Stepped Down As Senior Royals.
Harry revealed that the royal family cut him off soon after he and Meghan announced that they would be stepping back from official royal duties in January 2020. According to Harry, the couple's recent deals with Netflix and Spotify were "never part of the plan," but they became necessary for income. Initially, they relied solely on what Princess Diana had left for Harry. "I've got all my mum left me," he continued. "And without that, we would not have been able to do this."
10. The Color Of Archie's skin Was Apparently Discussed By The Royal Family Before His Birth.
According to Meghan, she was told while pregnant that her future child wouldn't receive a royal title or any sort of security, and that may have had to do with the shade of that future child's skin. As Meghan explained, conversations about whether her son would receive a title or security were had in tandem with "conversations about how dark his skin might be when he's born." (Kensington Palace did not respond to Elite Daily's request for comment on Meghan and Harry's claims.)
She added, "That was relayed to me from Harry — that was a conversation family members had with him." When Oprah asked Meghan whether it would be a problem if Archie was "too brown," she replied, "If that's the assumption we are making, that seems like a safe one."