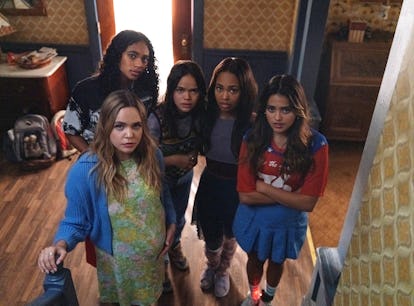 The Full Pretty Little Liars Reboot Trailer Is Giving Major Horror Vibes
It's going to be way scarier than the original.
Karolina Wojtasik/HBO Max
It's official: There are more lies to uncover. The HBO Max spinoff of Pretty Little Liars, titled Original Sin, is coming soon, and sounds like it's going to be filled with some juicy drama. The reboot was first teased back in 2020, when The Hollywood Reporter announced a star-studded team was behind the new series. Riverdale and Chilling Adventures of Sabrina producer Roberto Aguirre-Sacasa and CAOS producer Lindsay Calhoon Bring will be bringing Original Sin to life, so the new series is pretty much guaranteed to have all the twists and turns of your current favorite teen dramas.
Just like the original Pretty Little Liars series, Original Sin is based on the series of books by Sara Shepard. The creator of the original series for TV, I. Marlene King, will not be a part of this new one.
Aguirre-Sacasa and Bring said in a joint statement about the new show:
We're such huge fans of what I. Marlene King and her iconic cast created, we knew that we had to treat the original series as #CANON and do something different. So we're leaning into the suspense and horror in this reboot, which hopefully will honor what the fans loved about the hit series, while weaving in new, unexpected elements.
Here's everything we know so far about the upcoming HBO Max series Pretty Little Liars: Original Sin.
Pretty Little Liars: Original Sin First Images
Fans got their first look at the new cast of the Pretty Little Liars reboot on March 8, 2022, including one surprising twist: Bailee Madison's character, Imogen, is heavily pregnant. But that won't stop her from teaming up with her friends Minnie, Noa, Tabby, and Faran as they battle it out with their high school's mean girl, Karen, and eventually, the mysterious villain known as "A."
On June 20, the show shared a bunch of ominous new character photos on Instagram. To highlight the blackmail-y vibe of the series, the new pics are formatted as threatening text messages sent by A.
Pretty Little Liars: Original Sin Cast
Say hello to a new generation of liars: Chandler Kinney and Maia Reficco were the first actors announced for the new series. Kinney will play Tabby, an aspiring horror director with a dark secret of her own. Meanwhile, Reficco will portray Noa, a track star struggling to readjust to high school life after spending a summer in juvenile detention.
On July 27, 2021, Aguirre-Sacasa revealed a third star has joined the Original Sin cast: Bailee Madison, whom you may recognize from projects like Good Witch or The Fosters, will play a character named Imogen Able. According to Aguirre-Sacasa, Imogen is a "final girl" on the show, which is apparently fitting, since the series co-creator called Madison a "scream queen" since she starred in two of his favorite recent horror films, Don't Be Afraid of the Dark and Strangers: Prey at Night.
On Aug. 18, PLL added two more names to the roster: Zaria (Two Distant Strangers) and Malia Pyles (Baskets). Zaria has been cast as Faran, an aspiring principal ballerina who dreams of getting out of Millwood and never looking back. Pyles has been cast as Minnie, the youngest of the PLL set, who is working to overcome her childhood trauma.
On Sept. 1, fans got more. Deadline revealed three more cast members had been added to the PLL lineup: Alex Aiono (Doogie Kamealoha, M.D.), Mallory Bechtel (Hereditary), and Eric Johnson (Fifty Shades trilogy). Bechtel plays Karen, the show's main antagonist, known as "Millwood High's reigning queen of mean." Aiono will play Shawn, Noa's popular jock boyfriend, and Johnson is Sheriff Beasley, who keeps law and order in Millwood the same way he domineers his family.
Although no former PLL cast members have been mentioned so far, it's worth noting the new series exists within the Pretty Little Liars universe. So there's always a chance some Pretty Little Liars stars from the original series, like Lucy Hale or Shay Mitchell, could drop in.
Pretty Little Liars: Original Sin Plot
According to the show's logline, Pretty Little Liars: Original Sin will be a "dark, coming-of-rage, horror-tinged drama." The series is set in the blue-collar town of Millwood, 20 years after a series of tragic events nearly ripped the town apart. A group of teen girls from all different social circles must come together to reckon with the "original sin" of their parents, as an unknown Assailant trails their every move. The new series will introduce audiences to a whole new group of liars, and all kinds of new secrets.
Speaking to Entertainment Weekly, Aguirre-Sacasa promised some of the hallmarks of the original series will carry over, including "anonymous text messages," and "the female friendships at the center of the tale." But the new show is set in a new town, Millwood, Pennsylvania. "We wanted a new set of girls, a new town, a new set of secrets, and a new version of 'A,'" Aguirre-Sacasa said. And yet: "We love the idea that Rosewood exists. We reference it. There are Easter eggs throughout the season."
Pretty Little Liars: Original Sin Filming Updates
On Aug. 9, 2021, Aguirre-Sacasa posted a photo of all three stars of the new series as they gathered to begin filming on the first season. His post promised a full cast list to come and noted that filming is beginning "in a couple of weeks." On Aug. 18, he posted another photo which suggested filming was getting underway. Filming continued through the fall, finishing up in February 2022.
Pretty Little Liars: Original Sin Teaser
Fans got their first taste of the show's return when the series was initially announced in September 2020, promising a new town, new secrets, and a new nemesis.
On June 15, 2022, HBO Max released another ambiguous teaser, which showed the mysterious antagonist A cutting, piercing, and distressing photos of the main cast.
On July 6, fans finally got a juicy, full-length trailer, delivering more intel on the central plot, as well as a ton of creepy horror elements.
Pretty Little Liars: Original Sin Release Date
Pretty Little Liars: Original Sin will arrive July 28, 2022, on HBO Max.
This article was originally published on