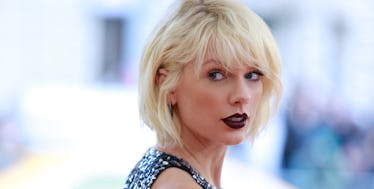 'Pretty Little Liars' Star Slams Taylor Swift For Being A Fake Friend
REX/Shutterstock
It seems like every celebrity has some sort of opinion on the Taylor Swift-Kimye drama.
Ever since Kim Kardashian exposed the 1989 singer's phone call with Kanye West about his song "Famous," stars have pledged their allegiance to either Team Taylor or Team Kimye.
For the most part, it seems like celebrities aren't having too much trouble picking sides.
Khloé Kardashian and Kendall Jenner clearly stuck with Kim K, while stars like Selena Gomez and Chloë Grace Moretz defended Taylor.
But now a "Pretty Little Liars" star is speaking up and sharing her opinion on the matter.
Cosmopolitan sat down with Troian Bellisario to talk about her TV show and current involvement with politics.
During their chat, Cosmo obviously had to address the feud between Taylor Swift and Kim Kardashian.
I mean, we have to know what a "Pretty Little Liar" thinks about the mess.
When asked if she's Team Kim or Team Taylor, Troian made it clear she isn't really a fan of either lady.
She explained,
Oh god, I have such an aversion to the Kardashians because I literally don't understand people's obsession with them and I don't want to accept them as our closest thing to a royal family, so I guess I would be Team Taylor Swift? However, I'm so appalled by what I consider to be her false feminism.
OH SHIT. Troian is bringing the heat. She then slammed Taylor for essentially being a fake friend. She added,
It seems like [Taylor is] this person who's like, 'Sisterhood!' and then she does nothing but tear down the women that were once her friends. So is it possible to just be, like… this is a two-party system that I don't want to be a part of? Can I just say that? Can I say that I would choose the Green Party in this?
DAMN, Spencer Hastings is not holding back. Sorry Taylor, it looks like this "Liar" isn't a fan!
Citations: Troian Bellisario Taylor Swift Drama (Cosmopolitan)