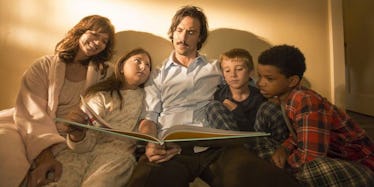 Pics Of Milo Ventimiglia At His First Ever Emmy Awards Will Give You All The Feels
NBC
These days, Milo Ventimiglia tears our fragile hearts into little pieces every week on This Is Us, but the actor does have quite the career pre-Jack Pearson. Milo had memorable starring roles in shows like Heroes and, of course, Gilmore Girls, making audiences swoon while proving that he could act with some of the best ensembles on TV. Now he's nominated for a 2017 Emmy Award for Outstanding Lead Actor in a Drama Series (yay!), but it's not the first time he's attended the major ceremony. Looking back at these baby-faced photos of Milo Ventimiglia at the 2007 Emmys give us all kinds of nostalgic feels. It feels so recent, yet so long ago...
Think back to 2007, if you will. Britney's breakdown. Avril Lavigne's "Girlfriend" video blowing up YouTube. Heroes was one of the hottest shows on TV, and Milo Ventimiglia was one of the show's hottest actors. Ryan Seacrest was hosting the Emmys that year. Heroes was actually nominated for Outstanding Drama series at the 59th Primetime Emmy Awards but lost out to The Sopranos swan song final season to, well, nobody's surprise. Ten years before getting nominated himself for another NBC standout hit of the year, Milo Ventimiglia and his fellow cast members suited up for TV's biggest night. Look. How. Cute.
We're so used to him with an early '80s mustache now.
If you need even more of a blast from the past here he is hanging at the Governor's Ball after party with former co-stars Kristen Bell and Masi Oka, and The Office's B.J. Novak. 2007 squad goals?
Milo has been acting since he was a young teenager and his breakout role was playing the angsty leather jacket-wearing Jess Mariano on Gilmore Girls. Despite Jess' bad boy rep, the character became a Rory boyfriend fan-favorite (shout out to #TeamJess). He was also Alexis Bledel's real-life love interest for over three years. Milo even made an appearance in 2016's revival, Gilmore Girls: A Year In the Life, because, seriously -- how could they not include him?
Milo's former costar Alexis Bledel already picked up a 2017 Guest Actress Creative Arts Emmy Award for her turn as Ofglen in The Handmaid's Tale. Will the Stars Hollow stars align and bestow a win on Milo on Sunday as well? This Is Us is up for a whopping eleven awards. Gerald McRaney, who portrayed the Pearson's wise and warm-hearted OB-Gyn Dr. K, nabbed a well-deserved guest acting win at the Creative Arts Emmys as well, so congrats! As for the awards that have yet to be handed out, Milo's Outstanding Actor in a Drama category has some stiff competition, including his son in the show (oh, the powers of time-jumping), Sterling K. Brown. Chrissy Metz is up for Supporting Actress in a Drama and Ron Cephas Jones will compete for Supporting Actor. This Is Us is also in the running for one of the night's hugest honors, Outstanding Drama. Go Pearsons.
This Is Us comes back for Season 2 on Sept. 26 and we're already prepared to retreat to a fetal position of emotions upon its tear-inducing return. If the sneak peeks and photos are any indication, there are going to be some tough moments to swallow. Showrunner Dan Fogelman already revealed, "The first episode has a big giant piece of the puzzle that will potentially set the internet abuzz and hopefully give some momentum toward that storyline." We couldn't be more ready.
While we're waiting to be reunited with America's favorite flashback-ing family, we can at least get pumped to see the glammed up cast come together at the Emmys this Sunday.
And if you need even more Milo throwbacks to make your day, here he is at the Fox TV Emmy After Party way back in 2003. Awww. Good luck this year, Milo!