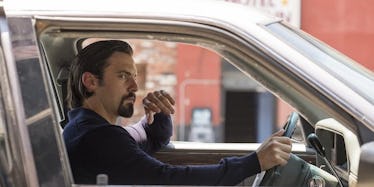 These 'This Is Us' Season 2 Photos Are Giving Us A Lot of Mixed Feelings
Ron Batzdorff/NBC
We have less than a month until we'll be reunited with the Pearson family so we can finally gain more insight into their current lives and the events that brought them to where they are today. But the future -- technically, the past -- does not look bright according to these recently released This Is Us Season 2 photos. This Is Us is known for its tear-inducing, gut-wrenching moments and if the sneak peeks off up anything, it's that Season 2 is going to rip our hearts out even further.
The first episode is titled "A Father's Advice" and it looks like it's a tough one for Jack and Rebecca. Mandy Moore's character appears to be very emotional as she reads. Is that a yearbook? Or a wedding scrapbook? Why the sad face, Rebecca?
She's not the only one having a hard time. Jack seems downright despondent as he stares pensively into the distance. He's giving serious Gilmore Girls Dean vibes with this diner setting. OMG, are those universes connected? Yeah, no. We'll let that theory go for now.
Rebecca gets her smile back for another pic, that shows her and the teenage big three at the movies. Everyone looks cool with what's on screen, except Kate is not impressed. Judging by their ages it's got to be the mid-'90s. Not a Jim Carrey fan, perhaps?
Another good sign? Kate and Toby look cuter than ever in the non-flashback pics.
Creator Dan Fogelman has revealed some big clues about what we can expect right off the bat this season. "The first episode has a big giant piece of the puzzle that will potentially set the internet abuzz and hopefully give some momentum toward that storyline," he said at the Television Critics Association summer press tour. It will start right where the first season ended, with Jack and Rebecca's massive fight. Sounds about right when it comes to their faces in these photos.
This Is Us released its first clip from the upcoming episodes last week, and if it doesn't make you cry, well, you're stronger than we are.
Sept. 26 can't come soon enough.