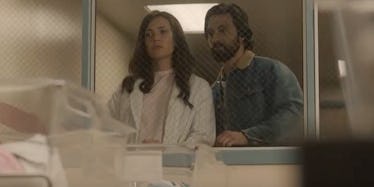 The First 'This Is Us' Season 2 Clip Is Here, So Grab Your Tissues
YouTube/NBC
Need to have a good cry this morning, people? We've got just the ticket. The first This Is Us Season 2 clip is here to hold us over until the show comes back next month and boy is it a doozy when it comes to the feelings department. What did you expect? It's This Is Us.
Yes, NBC has blessed us with a sneak peek that lets us in on the moments that led up to Rebecca (Mandy Moore) and Jack's (Milo Ventimiglia) decision to adopt Randall (Sterling K. Brown). In the present day, Randall opens up to his mom about his wife Beth's (Susan Kelechi Watson) hesitation to go through with adoption, but leave it to Rebecca to come back with some parental words of wisdom. Plus, she gives us all a marital life lesson along the way. "Did you want me, right away?" Randall asks his mom. "It's complicated," she replies. Randall's response? "That's something people say when they don't want to tell the truth."
Aaaaand it's flashback time. Rebecca's moving story gives us a glimpse at Jack and Rebecca on that fateful day at the hospital. Of course, the Season 1 premiere all centered around this momentous date. How could we forget Jack's blue denim jacket? Ah, it's like going home again...
Rebecca then reveals that she had her own reluctance when it came to adopting back in 1980, but it was Jack who allowed her to see the light. And we're so glad he did. "I said no, but your father was so sure I was tired and I was grieving, and he just kept pushing me. He was so determined that you were meant to be ours," she assures her son.
And if you had any doubts that Jack was pretty much the perfect husband, you shouldn't, because even 2017 Rebecca thinks so. She goes on,"Your father wasn't perfect, but he was pretty damn close. As close as they come. He pushed a stranger on me and that stranger became my child. And that child became my life. He became you."
From the looks of this clip, Season 2 is going to be super emotional. While we do miss out on the rest of the Big Three here, it's certainly more than enough to help hold us over until the show returns on Sept. 26. This and all those adorable on-set Instagrams will have to do for now...