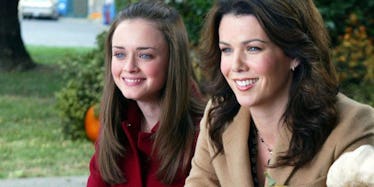 Lorelai Gilmore Congratulating Rory On Her Creative Arts Emmy Will Warm Your Heart
Warner Bros. Television
The Creative Arts Emmy Awards were held over the weekend. These Emmys are normally thought of as the more technical side, the stuff your average viewer isn't inclined to care much for -- lighting, costumes, hair, makeup, several varieties of sound departments and video editing. But the Creative Arts also have a few regular categories that simply don't fit in the main broadcast, like Guest Actors. One of those who won last night was Alexis Bedel for her turn as Ofglen in The Handmaid's Tale. Adorably, in response, Lauren Graham tweeted Alexis Bledel the best congratulations upon her win.
For those who might not remember back to the last decade at this point, Alexis Bledel got her start playing a child actor role, as Rory  Gilmore in the famed Gilmore Girls series, which recently was rebooted by Netflix with a sequel set in the present. Lauren Graham played Rory's mother, Lorilei Gilmore, and from that vantage point, got to see Bledel grow up both on camera and off and celebrate her successes as she moved on from the program, including another successful guest turn in the acclaimed series Mad Men.
This is Bledel's first Emmy win, and Mama Gilmore was right there to tweet out her support.
This was not that big a surprise. Bledel had some formidable competition for the award, including Cicely Tyson for her turn as Ophelia Harkness in How To Get Away With Murder; Laverne Cox as Sophia Burset in Orange Is The New Black; and Ann Dowd as Patti Levin in The Leftovers. But The Handmaid's Tale was a big winner at the Television Critics Association Awards last month, and that's seen as something of a bellwether to how Television Academy members are voting.
Even if Hulu's first big in-house production didn't come up quite so high at the Emmys, Bledel's role as Ofglen, a lesbian whose wife escaped to Canada without her, made an impact. Left behind, Ofglen is consigned to sexual slavery for breeding purposes, and forced to undergo female genital mutilation in order to "fix" her "unnatural desires." It was a powerful enough performance that most assumed she would take the win.
It may have been Bledel's first win, but she was ready for it, dedicating her acceptance speech to speak about the production, and it's partnership with Change.org, which she said was designed to work with the show's overarching theme "to encourage us all to take action…sign up, speak up and stay awake." She also named checked fellow nominee Ann Dowd, who played Aunt Lydia, the cruel woman who indoctrinates Handmaidens in the series.
We expect the full speech will make it into the broadcast version of the Creative Arts Emmy Awards, this coming Saturday, September 16, on FXX.
According to Deadline, after receiving her award, Bledel said backstage:
It's really an incredible thing when we are sparking conversation and it's thought-provoking to stand out in this way. I certainly have been listening a lot and have been really engaged in the exchange, and I love that my character is so strong in the face of so much adversity. I just can't wait to get back to work and play her again.
Bledel will get her chance to play Ofglen, now known as Ofsteven (but real name Emily) again. The performance was such that, though in the novel her part directing Offred (Elisabeth Moss) to the Mayday rebellion is technically over, Ofsteven has been upped to a series regular for the second season.
That means if she gets nominated next year, she'll be part of the Primetime broadcast on Sunday night instead of the Creative Arts awards the weekend before. Go Rory go!