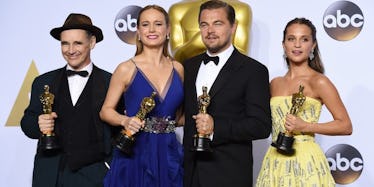 Each Gold Oscar Statue Actually Costs More Than Your Rent
REX/Shutterstock
I can tell you how much each Oscar trophy costs, but just know, you're going to be absolutely livid at the price tag.
The Oscars are arguably America's fanciest event.
Sure, at the end of the day it's just an award show, but it's also sort of a yearly industry wrap-up ceremony where the clientele of the world's most glamorous profession get together to see who can dress in the shiniest ensemble they can put on before not giving an award to Leonardo DiCaprio Amy Adams.
Don't worry, Amy. It'll happen.
The actual economics of the event are absolutely absurd, as there is a considerable cost that comes with putting on the Super Bowl of over-the-top productions.
Thanks to WalletHub, we sort of now know those Oscars economics and, full warning, there are going to be a few moments while looking at this infographic where you will probably yell, "REALLY? I EAT CANS OF CORN FOR DINNER AND THEY'RE SPENDING THAT MUCH ON THE AWARD FOR BEST FOREIGN ANIMATED DOCUMENTARY SHORT -- DOMESTIC?!!??!!?! REALLY?!?!?!?!"
Enjoy!
The breakdown starts with some super positive news when it comes to diversity in the Oscar voting block.
This year, the committee followed through on their promise to add a bunch of non-white dudes, with 46 percent of new members being female and 41 percent being people of color.
Viola Davis will also set a new record with her third nomination, the most all-time for a black actress.
From a revenue perspective, the event is set to clean up this Sunday night. It costs $2.1 million to run a 30-second advertisement during the show, which will be telecast in 225 countries/territories.
It'll cost you to get to that point, though. The Oscars will spend $42.8 million on the ceremony itself, with studios dishing out more than $100 million in the weeks leading up to the event to promote their own movies -- and they do it all for a trophy that costs $696 to make.
YUP. THAT'S LEGIT RENT FOR ANYONE NOT LIVING ON A COAST.
Citations: 2017 Oscars Fun Facts (WalletHub)